It's that time of year again! It's fall and with that comes darker mornings and early sunsets. For runners and walkers alike, this doesn't normally deter us from our workouts. However, with limited light there is limited visibility. This means for both yourself and vehicles. The National Highway Traffic Safety Administration says that about 75% of accidents happen in the dark. So, if you are one of the two categories of runners (early morning or late night) keep visibility in mind when considering your workouts.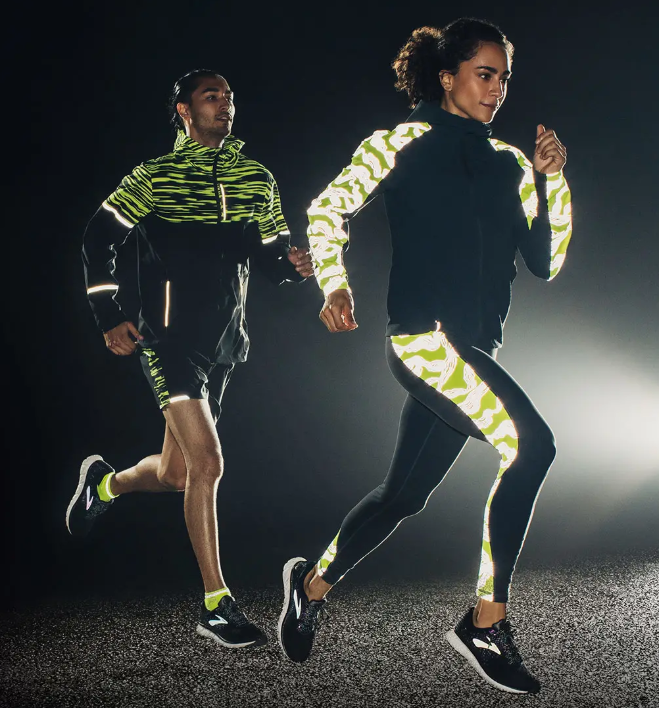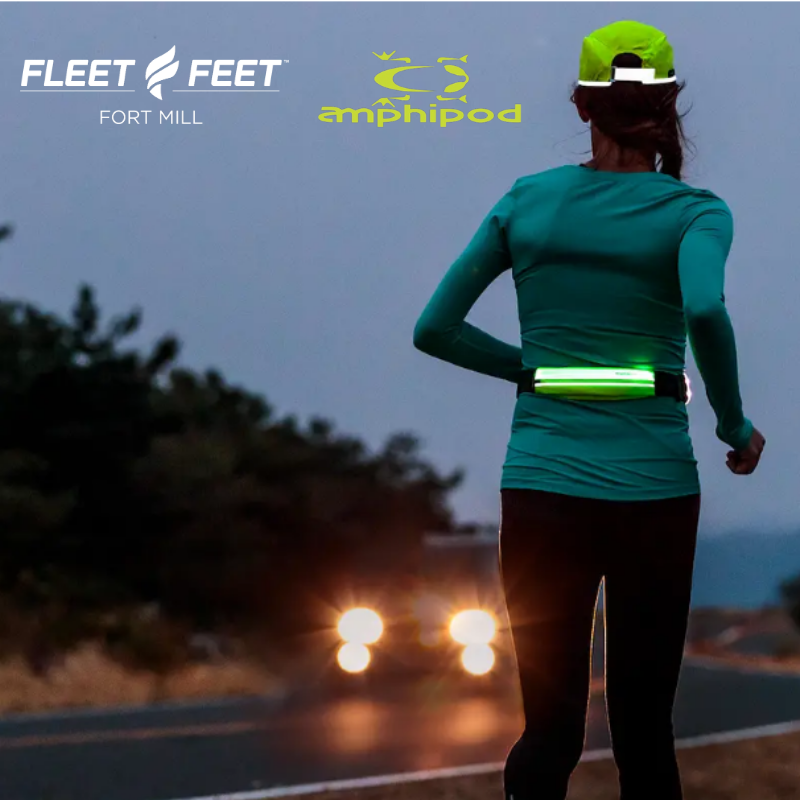 But, what may you ask should you consider for differing types of clothing or product for visibility? Consider Nathan, Amphipod, or even Brooks. All three brands try and cater to the darker months of the year.
Always wear reflective. We understand that you may not always like to wear a reflective vest, but it's necessary. When car lights or even simple bike lights hit the vest it will make you seen immediately, much like the reflective painted lines on the road. For those who prefer not to wear a vest directly consider looking into some of the Brooks Nightlife collection. These pieces have reflectivity printed or sewn directly onto them and are brightly colored so that you will still be easy to discern even in the dark.
Blinky Lights with higher lumens. Everyone has them, but are they truly bright enough to be seen by drivers? Lumens with a count of about 5-25 on blinky lights will allow for your light to be seen from a longer amount of meters or yards away. Which in turn can give a drive more time to shift and see you during your run/walk. But, be sure that just as with reflective vests or clothing that you have 360-degree coverage, as vehicles can be coming from both directions. Nathan and Amphipod have both of these problems covered with arm bands, hat clips, and vary strobe lights that are simple and easy to clip on.
Headlamps, Chest Lamps, & Handheld Flashlights are a necessity. Even if you don't enjoy carry much more than a vest or a small blinky light, you still need to ensure that you are able to see every step in front of you. There are tripping hazards everywhere, from potholes, to cracked sidewalk, or even trying to avoid mud, sand, and the like. So, it's important to have at least one of the three items on your person to light the way. Nathan Sports has all three of these products with varying degrees of lumens and sizes. There is definitely a perfect options out there for you.
Now, in the past with lighting materials, you've had to rely on batteries to help maintain the brightness of your runs. These days the ability to re-charge your visibility gear has become such a normal standard that it's almost difficult to find running or walking product that still utilizes batteries.
Be safe, and be more than seen out there this season. Have questions? Stop into Fleet Feet Fort Mill anytime to ask one of FIT specialists for help in picking your safety gear!