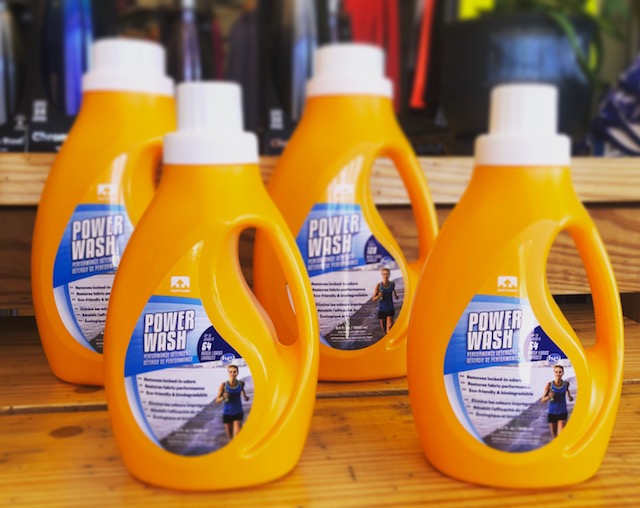 We are all familiar with the scents of post workout gear; it's not always particularly pleasant. Like many other athletes, most of us struggle with our regularly cycled workout gear holding onto smells. It isn't uncommon for us to go out and try all sorts of different laundry combinations in order to try and pull the sweaty aroma from said gear, however, there is one product that is guaranteed to work; Nathan Sports Power Wash formula.
Formally known to the athletic community as Sport Wash, Power Wash is a new and more improved product. Not only is it environmentally friendly, but it doesn't contain overpowering scented product that can be irritating to someone's sensitive skin. Therefore, it doesn't contain things like bleach, fabric softener, phosphate, or brighteners. It is instead, pH neutral, and can be used in high efficiency washers. It will not leave behind the regular residue that pods, fabric softener, or regular detergent leaves, instead it will wash completely out. This will help to maintain the effectiveness of your technical garments (Did you know: that most technical garments can only handle around 50 washes before they are considered 'clogged' or the antimicrobial layers have deteriorated?).
According to Nathan Sports website Power Wash will do the following to help you and your workout gear:
>Completely Remove Odor
>Keep technical fabrics looking and working like new
>Restores factory applied waterproofing
>Restores wicking & maintains breathability
>Prevents damage done by chlorine
>Removes blood & grass stains
>Prevents color fading
>Restores loft & effectiveness to down and synthetic insulation
>Readily biodegradable  
If you haven't tried this amazing product yet, you should. You are able to get around for 40 washes from 32 fl. oz and 80 from 64 fl. oz, as you only need a small capful for a load of cold washable laundry. It truly is a miracle detergent!
Pick up Power Wash from your local Fleet Feet Sports today!
No time to stop in? No worries! Click below and SHOP NOW!