Quick and delicious, runner-inspired recipes.
---
Great for: Refueling after a long run
This hash is a nutrition powerhouse. The combination of protein, carbohydrates, and vitamins will leave your muscles thanking you. If you plan your long runs for the weekend this is the brunch for you.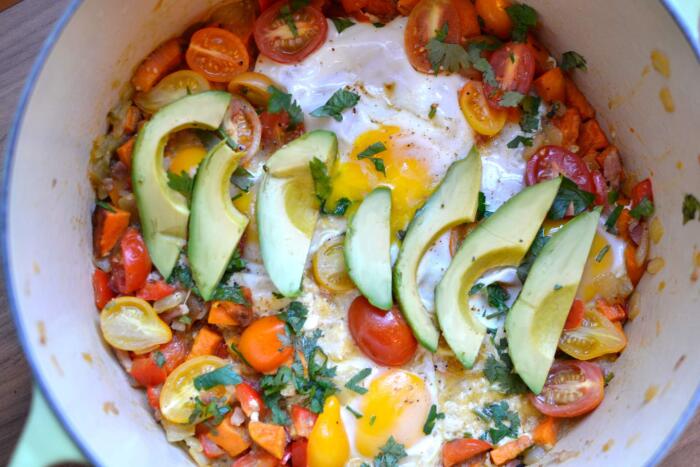 INGREDIENTS
2 large sweet potatoes, peeled and diced into 1/2 inch cubes
Olive oil
Salt and pepper
4 oz pancetta, cubed
1 onion, diced
1 red pepper, diced
1 tablespoon butter
1 1/2 cups homemade salsa verde (see link to recipe above)
10 cherry tomatoes, halved
4 eggs
1 avocado, sliced
Parsley and cilantro for garnish
DIRECTIONS
Preheat the oven to 400
Place the diced sweet potatoes on a sheet pan. Toss with 1 tablespoon olive oil and roast for 12 minutes, or until just starting to brown.
While the potatoes are roasting, cook the pancetta in a cast iron skillet until crispy, remove from the skillet, leaving behind the rendered fat.
Toss in the onion, bell pepper, butter, and 1/2 teaspoon salt and cook on medium heat until the vegetables are tender, about 8-10 minutes.
Add the sweet potatoes and pancetta and cook for another 7-9 minutes, adding in a few tablespoons of water or chicken stock if the pan gets too dry.
Spread the mixture evenly along the bottom of the pan and spoon the salsa verde evenly around the pan. Arrange the tomato halves over the top.
Create four shallow wells for the eggs and crack one egg into each well.
Cover with a lid and let simmer on medium-low heat for 5-7 minutes until the eggs are cooked but still runny.
Sprinkle with chopped cilantro and parsley and top with sliced avocado.
SOURCE
---
About Anna Simon
A lover of all things fresh and flavorful, Anna Simon is a graduate of The University of North Carolina Chapel Hill where she wrote for the food blog 
carolina-eats.com
. Her favorite foods include fresh pineapple, whole roasted fish and PB&Js, and her hobbies include mastering tricky cooking techniques, going for late-night runs and eating her way through new cities. She hopes to one day act as chef/owner of a ceviche and taco bar, and uses her free time now to perfect that menu.