Fleet Feet Fort Mill is excited to announce the arrival of the Garmin 645 Music!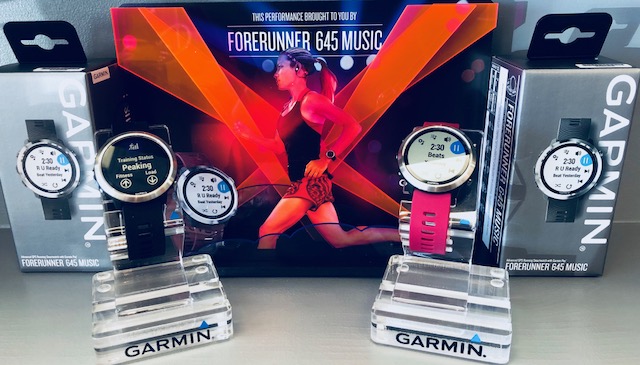 After patiently waiting, Garmin has finally released their long anticipated watch, the 645 Music. Though not as innovative as the Fenix 5 series, it has the ability to play and stream music from your watch alone! You are able to upload 500 songs at a time and it will connect with your Spotify account. You are also able to seamlessly connect to your wireless headphones with the watch's Bluetooth system.
Without simply highlighting the obvious, it has received a new sleek watch face, which is still fully customizable when you download the Garmin Connect App. However, there is an all new 'wallet' feature on the watch that allows you to pay for your after run treats! This allowable by being able to upload your debit or credit card; no longer do you have to carry your cards, make post run more fun with a simple swipe of the wrist! 
Lastly, the battery life, which for some was worrisome for those who need a little more time connected to their GPS during those longer runs!  You'll get twelve hours in GPS mode, five hours in GPS mode with Music, and up to seven days in regular smartwatch mode. This is a wonderful news, especially with so many features running in the background.
Try it now! Available at your friendly neighborhood Fleet Feet Sports!