Women have a need for one piece of special equipment on every single run, walk, or workouts, a BRA. But, the question is, do you really know what Sports Bra Size is right for you?
Studies show that 8 out 10 women are wearing bras that are the incorrect size. While it may come as a shock to most women that they're sizing is wrong, please keep in mind that when you are fit for athletic shoes it's common to have a vastly different size from your traditional kick around or dress shoes; so why should it be any different when it comes to something like a sports bra. A traditional underwire bra is obviously going to fit for long term comfort, and while a sports bra should be comfortable too, it's main job is to be worn in the short term for whatever workout you are doing.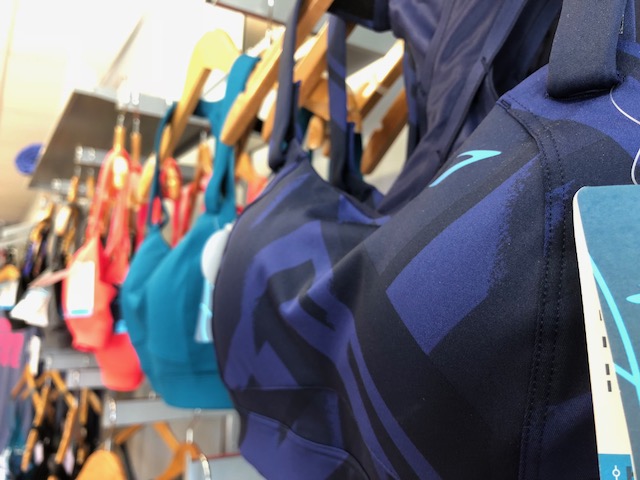 Sports bras have changed vastly over the last decade, compression is no longer the number one factor for the breast tissues, you need the proper band and cup size to get through your workout. "Bounce tests" are important and compressing the breast tissue is not the only way to keep the breasts in proper place; all in all doubling up on bras is not as efficient as some women are led to believe. All doubling up is succeeding in doing is making you more prone to chafing and being generally uncomfortable in the sternum and rib cage. So, STOP doing this to yourself and let one of Fleet Feet's FIT specialists help you resize.
One bra is NEVER enough, depending on how many times a week you are working out, you really should have more than one bra in rotation. Brooks rule of 3 comes into considerable play here. The idea is that you have one on your body, one in the wash, and one clean and ready to go for the next workout. And remember that no bra should ever see a birthday. Just like shoes, the technology in a sports bra will break down over time and washes. Be sure to replace them before you micro-tear the tissues that help keep your breasts supported naturally.
 A sports bra is such a necessary piece of equipment and if you need one, don't hesitate to ask the experts!
We here at Fleet Feet Fort Mill are always ready to help you with a FIT.
Schedule a Sports Bra FIT today!