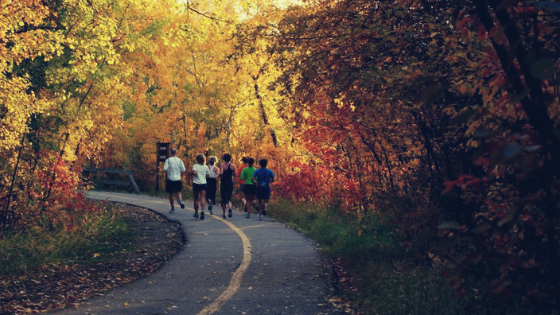 We may not be 'officially' in fall, but, it's important to know what to expect when that cooler fall weather starts rolling out. With the official kick off to our Fall Training Programs, Fleet Feet Fort Mill wants all runners in our community to have the right tools to train efficiently and effectively this fall season.
1. Adjust Your Stretching Routine
In warmer weather, you might start with a few dynamic stretches then get right into your run, whereas in the cooler weather it's important to add walking or a short jog. Muscles tighten more quickly in cooler weather which could make your body more prone to injury so don't skip the warm-up!
2. Try Longer Runs
With the temperatures cooling down, you don't have to worry about overheating under the hot summer sun! You can extend your runs and improve your times. Just don't underestimate how much you'll still sweat, so make sure to stay well hydrated and be sure that you continue to utilize nutrition such as gels, chews, or endurolytes to help maintain you during those longer miles.
3. Don't Overdress
Fall weather is often unpredictable so balancing your outerwear can be confusing. A good rule of thumb is if you feel chilly at the start of your run, you went out in the perfect attire; this is ideal because as you get further into your run your body will begin to warm up. Wear lighter tech materials that dry fast to ensure that you're still cool and dry in the later miles (Remember: COTTON IS ROTTEN!)
4. Stay Seen and Stay Safe
With autumn, comes shorter days. Whether you run in the early mornings or at night, you'll likely be running in the dark. Adjust your gear to stay visible to traffic, cyclists and other people on the path. Pick clothing and accessories that are meant for nighttime running. Look for fluorescent and reflective clothing that can be seen when light is shining on you and when it's not. . For example, NATHAN Sports products are great for reflective materials and lighting, ask a FIT Specialist for some help picking out these visibility products next time you stop in.
5. Update Your Shoes
Fall is a great time to get new shoes. If you're doing any fall training be it 5K, 10K, ½, or marathon training it will give you time to break them in and run on fresh shoes. You don't want to go into race day with old shoes as it increases your risk for injury because of a higher rate of impact from broken down midsole foam.
Schedule a FIT if you're in need for any new shoes, apparel, or visibility!