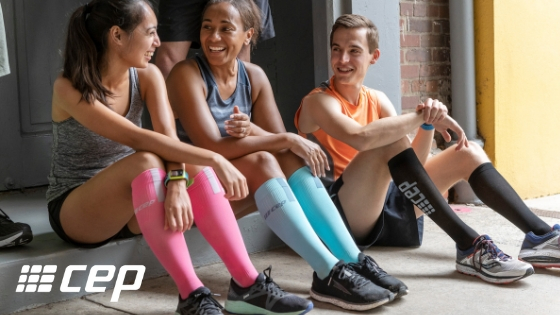 With medi's 60+ years of experience in the compression industry, CEP is a brand that people can trust. We are all familiar with their compression socks, but what we need to know now is what are the changes from 2.0 to 3.0?
The Run 3.0 series of sock now has a more asymmetrical fit versus symmetrical. This has allowed for a more secure feeling fit inside the short, long, low-cut, and no-show socks. However, just as with the Run 2.0 socks, you will still have a left and right sock (marked on the toe of each sock).
It is also noteworthy that the newer material of the Run 3.0 socks and sleeves is made up of microfiber and trilobal, therefore making the series much more durable than before. It has also been upped in thread count from 7 to 16, again making the material more lasting.
In the past, long socks and calf sleeves can be considered 'too warm' for the Carolinas. In which case, Fleet Feet Fort Mill would offer CEP's ultralight series. With changing of the materials, CEP has also added feran, which will help pull and wick moisture more effectively from the legs. There has also been an addition of HEIQ to help keep the calves and shins cooler during those warmer months of the year.
All in all, CEP has made optimum changes for those who look forward to their workouts, travel, and more! We guarantee there's a compression sock for you with some help from CEP!
Shop for Run 3.0 socks and calf sleeves today at your friendly neighborhood Fleet Feet!