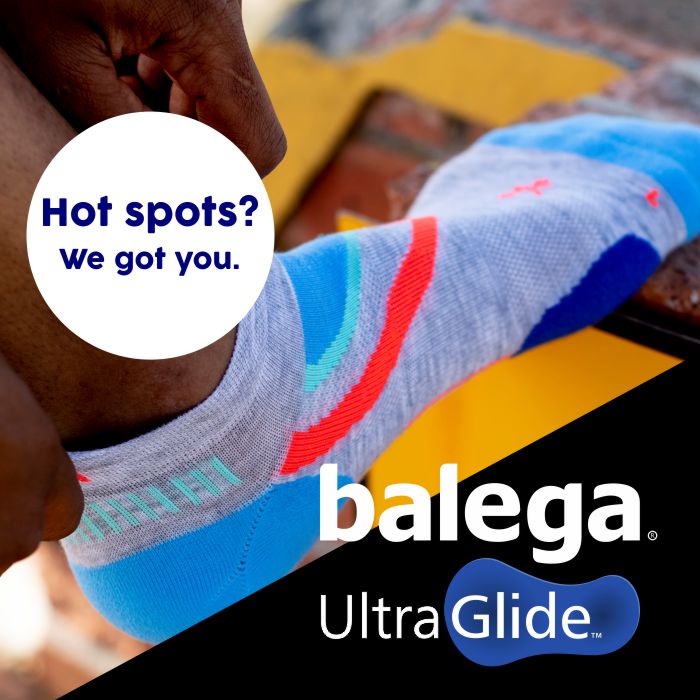 For those of you who covet their technical socks, boy have we got something BIG in store for you! Balega Socks has released a brand new kind of sock: Ultraglide.
Now, we aren't saying it's one of the greatest socks that Balega has ever had the pleasure of creating; but we aren't saying it's not worth trying out. While Balega has their number one running sock pegged as the Hidden Comfort, which is plush, vented and comes in an astounding assortment of colors, the Ultraglide is bringing something new to the table. Elimination of hot spots.
Hot spots and blisters often plague runners and walkers alike. But, without a hotspot, you cannot properly get a blister. This is where the Ultraglide gets interesting the sock is meant to stop friction by having strategically sewn density pads in vulnerable weight-bearing areas of the foot. This in turn will keep your foot comfortable for those runs or walks, and ultimately keep you blister and hotspot free!
Key Features:
Drynamix® fibers which wick moisture away from the skin, thereby reducing the friction potential and mechanical stress in the heel and ball of the foot, keeping feet cool and dry
Friction-free yarn that wraps around the first metatarsal head to the first toe joint to account for bunions or arthritic deformities
Anatomically-shaped left/right construction with seamless toes to minimize exposure to blisters
Heel tab to protect skin from blisters commonly caused by the friction of footwear near the Achilles tendon
Check them out now at Fleet Feet Fort Mill!