Great for: A sleep-inducing snack before bed
We can't overemphasize the power of a good night's sleep during training. A restful sleep aids in muscle recovery, cellular repair, and weight loss. Tart cherries, walnuts, and oats are part of the family of foods found to have real capability to prepare the body for sleep and encourage a restful sleep. This recipe throws these powerhouses together for a smart, satisfying snack before bed.
P.S. If you're wondering which foods to avoid before sleep: dark chocolate, foods high in fat (ice cream), sugary yogurt or cereal.
---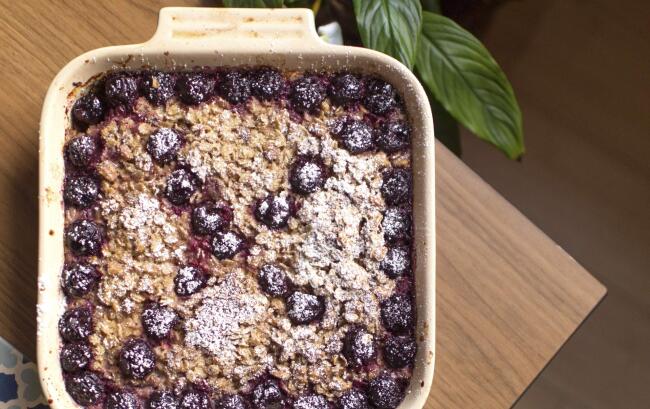 INGREDIENTS
1/2 cup walnut pieces
2 cups old-fashioned rolled oats
1 teaspoon baking powder
1/2 teaspoon salt
3 teaspoons ground cinnamon
2 eggs
1/3 cup tart cherry preserves
2 cups milk
2 tablespoons butter, melted
2 teaspoons vanilla
12 oz fresh or frozen tart cherries (Montmorency cherries)
A few tablespoons powdered sugar
DIRECTIONS
Preheat the oven to 375. Toast the walnuts on a sheet pan for 4 minutes.
In a mixing bowl, combine the toasted nuts, oatmeal, baking powder, salt and cinnamon.
In another bowl, whisk together the eggs, milk, vanilla and butter.
Grease a 9 inch square baking pan and pour the oatmeal mixture in the pan in an even layer.
Pour the egg mixture over the oats to make sure all of the oats are covered.
Arrange the cherries on top of the mixture, covering most of the surface.
Bake for 35-40 minutes or until firm and golden.
Remove from oven, sprinkle with powdered sugar and serve with fresh cherries or preserves.
---
ABOUT ANNA SIMON 
A lover of all things fresh and flavorful, Anna Simon is a graduate of The University of North Carolina Chapel Hill where she wrote for the food blog carolina-eats.com. Her favorite foods include fresh pineapple, whole roasted fish and PB&Js, and her hobbies include mastering tricky cooking techniques, going for late-night runs and eating her way through new cities. She hopes to one day act as chef/owner of a ceviche and taco bar, and uses her free time now to perfect that menu.