Listen up! Ladies, gentleman, trail-runners of all calibers, we give you the new and improved Altra Lone Peak!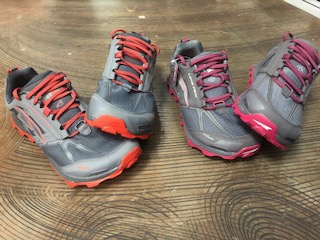 With an all new Maxtrac covering the outsole, the new rubber has more grip and more aggressive lugs than previous models of the Lone Peak; giving it the advantage on more technical trails.
The upper, you'll notice, has an all new sheek and shean look to it. With a more skeletal look, not only is it more breathable, it fits more securely than every other Lone Peak released before it. By adding a seal shaped like a "V", the forefoot should offer a more solid ride. Not only this, but because Altra opted to utilize a single layer mesh versus the traditional dual layer mesh that is often seen on trail models. This allows for easier drainage of water/moisture during and following activities.
If you're an Altra fan and have loved this shoe from the start, get ready to be amazed by the Lone Peak 4.0, easily one of the most innovative trail shoes on the market.
Key Feature of Lone Peak 4.0:
Get FIT for it now at your local Fleet Feet!
SCHEDULE A FITTING