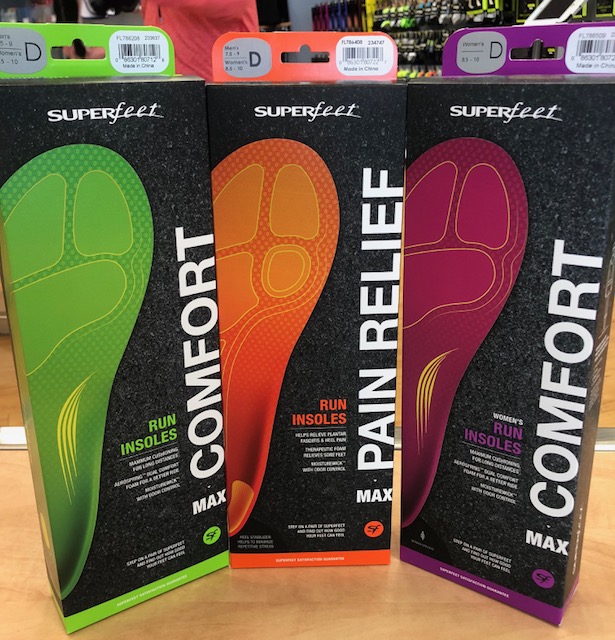 If you haven't already heard the good news, then prepare to be inspired to run further than you have before; Superfeet has released a new series of insoles, RUN COMFORT MAX & PAIN RELIEF MAX. There are now a series specifically to fit a wider variety of running & walking shoes!
Take a look at RUN COMFORT MAX:
With a softer footbed made up of memory foam and a gel cushioned heel cup, you'll be protected and comfortable for those longer miles. While still staying with the carbon capped structure of the Superfeet Heritage collection, you'll find that traditional deep set heel cup, while also helping to reduce foot fatigue and offering smoother transitions. Offered in Green and Pink, Pink will offer more customized dimensions to a women's foot shape, while Green will continue to offer the wide range of diversity as Green Heritage.
Now, take a look at RUN COMFORT PAIN RELIEF:
Superfeet RUN Pain Relief Max insoles offer similar cushion as the Run Comfort Max insole, however, they will help stabilize the foot to minimize repetitive stress. The Superfeet shape personalizes the fit of the shoe, while the independent Heel Stabilizer keeps the pain relieving-shape closer to the foot. More often than not this is the recommended insole for those runners, walkers, etc. who are suffering from aches and pains like plantar fasciitis and achilles tendonitis.
3 Things to Know about Superfeet Insoles:
Adding a Superfeet insole helps your 3-dimensional foot adapt to a 2-dimensional shoe for a more personalized fit.

The signature feature is the deep heel cup, which reduces stress underfoot and distributes pressure efficiently.

Let us help you pick the correct Superfeet for you by stopping by for a FIT! We will not only help find the correct orthotic, but we will even trim to fit perfectly in your shoes!
Schedule your FIT today OR Shop Superfeet RUN SERIES Online