With the temperatures warming up and more hours of daylight, it's the perfect time to fine-tune your fitness. Here are five ways you can tweak your routine to get faster and spring into shape this month.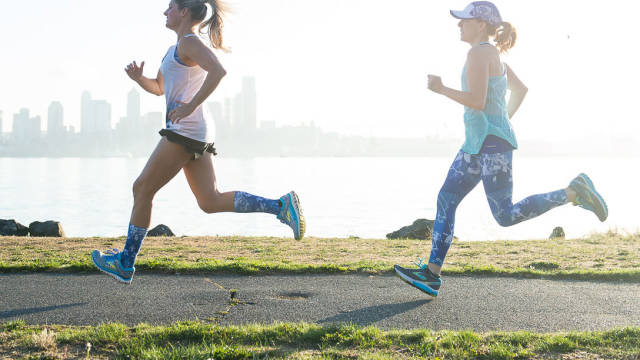 1. Try something new
Leverage the strength that you've built running to try a new activity. Get on a bike, learn to surf, try yoga, barre, Crossfit, rock-climbing, or plan a hiking adventure. Exercising in a new way will build all-around fitness, help stave off burnout, and make you feel like running is expanding your life, not limiting it.
2. Get strong
We know, we know, you want to spend the limited workout time you do have on the road. But building muscle and strength will help you run more efficiently, avoid injuries, and burn calories even when you're not working out. You don't have to log marathon sessions inside a gym to get strong. Pick a strength-training workout that you enjoy, and that you can do any time at any place. The type of training isn't as important as the consistency and integrity that you bring to the process. The fun factor is important, however. If you don't enjoy it, chances are you're not going to keep it up. Commit to the routine two to three times a week.  Switch up your moves or ramp up the intensity every four to six weeks to avoid falling into a plateau.
3. Run a race
Even if you're not a competitive person, there are plenty of good reasons to run a 5K or a longer distance race. Test your fitness, break up your workout routine, explore new routes in your town that you wouldn't otherwise discover. Meet others who share your love of running and look for other fun running events in your area.
4. Set a non-race goal
Find ways to measure success that aren't limited to the digital read-out on the finish-line clock, or the "average pace" read-out on your training watch. Set a goal to cover a certain distance over a set number of weeks or months. Or simply start logging your miles and be disciplined about keeping a training log. Make it a goal to run on a new road at least once a week to stave off boredom with the same old routes. If you're a confirmed solo runner, make a goal of joining up with a group once a week to get the support of other runners, and share your experience and perspective to boost others up. You can find lots of great training groups at your local Fleet Feet Sports store.
5. Eat well
You can have the legs and lungs of an Olympian, but if you don't fuel properly, you'll continually battle fitness frustration. In order to run well, you must fuel well. Find carb-rich foods that boost your energy on the run without causing GI distress. Hydrate throughout the day with water—dehydration can drag down your pace and make even an easy pace feel tougher than it should. Aim for half your body weight in ounces each day. So if you weigh 130 pounds, aim for 65 ounces per day. If you weigh 180 pounds, aim for 90 ounces of fluids per day. After tough workouts like speed sessions and long runs, refuel as soon as possible with wholesome proteins, fats, and carbs, to help repair torn muscle tissue and replenish spent glycogen stores.
Source: Fleet Feet Sports