HUMANS OF FLEET FEET SPORTS FORT MILL (highlighting our awesome customers and runners):
The Sheltons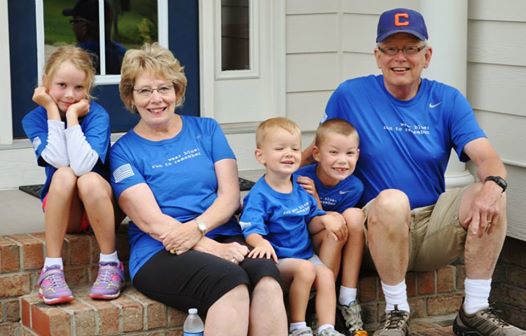 Meet Candi and Cary Shelton, Tega Cay residents who are frequently active. It happened that one particular day Cary crossed paths with Catherine Foerster, owner of Fleet Feet Sports Fort Mill, and in the midst she noticed Cary's wear blue: run to remember shirt. As Fleet Feet Fort Mill had applied to begin a local wear blue: run to remember run, Catherine was curious as to how Cary had acquired his shirt. It was then that Cary shared that he and his family had a major connection to the volunteer organization, their daughter Jessica Alley.
Jessica Alley, previously Jessica Shelton, has been working with the wear blue: run to remember foundation since the beginning of the small running group 7 years ago, to support her friend Lisa Hallett following the death of her husband, CPT John Hallett. The running was a weekly coping mechanism to gain strength in the light of something so tragic. It began as simply an idea that Lisa, Jessica, and many others would soon begin to formulate into an all-volunteer based organization to support those who had fallen fighting the war on terror, forming wear blue: run to remember. Jessica became the Chief Officer of the organization and for years often traveled and supported new wear blue: run to remember runs worldwide. The original run held in Joint Base Lewis-McChord, WA, Springfield, VA/Washington, DC, went from only a few members, to 150-200 people meeting every Saturday morning.
Candi and Cary commented that they have seen so much change, and how wonderfully supportive the communities surrounding the wear blue: run to remember events are; people from all over will come to honor their fallen servicemen and women, and support their families. Constantly the Sheltons find themselves traveling to various races to show their support, and though Jessica no longer holds the title of Chief Officer for the organization, she continues to help by posting to the wear blue social media outlets.
"It was simply amazing seeing the changes in the faces of tragedy, people from all over coming together to support those who fight, it is emotional and beautiful." - Candi Shelton
One thing this organization stresses most is that by running you honor those who are gone by continuing to live a healthy active life. If you or any of your family members would like to participate in wear blue: run to remember, every 3rd Thursday of the month there will be a meet-up at Veterans Memorial Park. You can see more information on our event page: http://www.fleetfeetfortmill.com/events/wear-blue-run-to-remember
If you would like more information on the wear blue: run to remember foundation please visit their website at http://www.wearblueruntoremember.org/. 
---
HUMANS OF FLEET FEET SPORTS FORT MILL (highlighting our awesome customers and runners):
Meet Sheila Caldwell
(on the right, shown here with Catherine)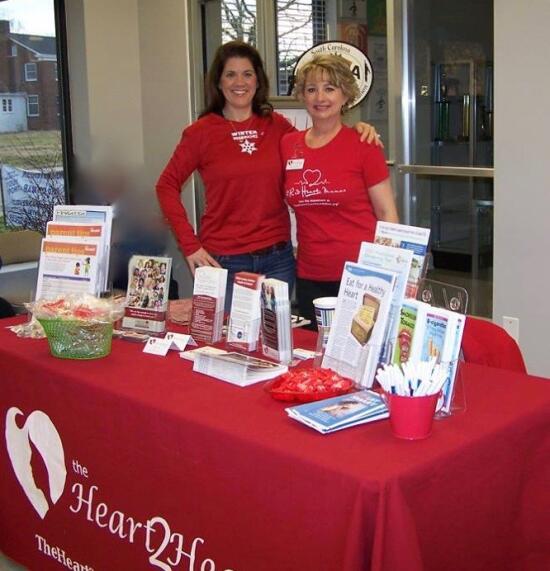 Sheila Caldwell has been active in the York County community since 2012, when she survived a heart attack at the young age of 50. Even though she had been working to eat healthier, there were still several warning signs leading up to the attack itself. Shocked, Sheila began to research many different ways that women were affected by the risks of cardiac arrest. This traumatic event pushed Sheila to start the Heart2Heart Foundation. Today, 4 years after her wake up call to good health, the Heart2Heart Foundation strives to raise awareness on women's cardiac health.
Sheila shares her story at a number of events to create personal connections and help those who are not as mindful to the differences that are found between women's and men's cardiac health. Sheila says that she is incredibly fulfilled in helping those women to survive; setting up heart health screenings and offering scholarships for those who cannot financially account for the cost of a screening. She wants to ensure that women are aware that heart disease and cardiac arrest kill six times more often than most cancers. Shelia emphasizes the importance of utilizing local medical resources to be proactive in catching early warning signs of heart disease.
February marks Heart Month. The Heart2Heart Foundation acts as an active informant during this month especially. With their "Mission Red" project, they strive to have women share their various experiences and offer ways to help manage stress levels and discuss new ways to actively prevent heart disease. Thursday, February 18, 2016 the Heart2Heart Foundation will be offering free heart screenings for statewide screening day. Just follow the link below to find a location near you!
"It takes commitment and determination to change. It's hard to break those cycles; you have to be diligent and careful. In the end, it is always worth it!"-Sheila Caldwell
Statewide Screening Day: http://www.theheart2heartfoundation.org/#!screening-day-sites---sc/sa7ko
Get more information on the Heart 2 Heart Foundation's other local health programs and learn what you can do to support them: http://www.theheart2heartfoundation.org/
---
HUMANS OF FLEET FEET SPORTS FORT MILL (highlighting our awesome customers and runners):
Meet Catherine Limpo -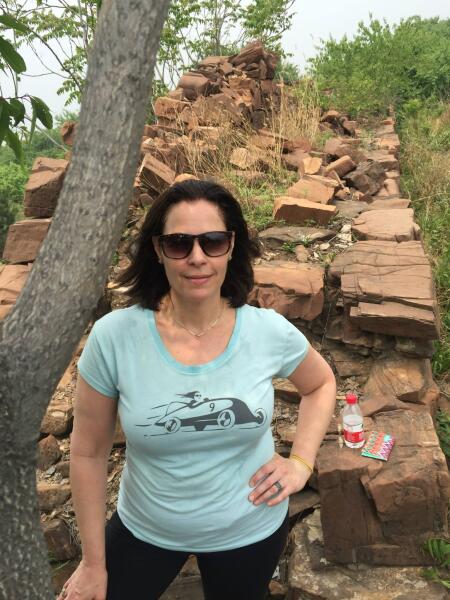 Catherine Limpo has been a dedicated runner since the late 1980s. As a college student she looked to running for a healthy way to destress at the end of a long academic day. Now a successful business woman, Catherine works for one of the largest industrial automation product vendors worldwide. She covers a total of 25 different regions globally and visits them at least twice a year. Today, she still uses running as an excuse to go out and reflect on her work day; it is simply a means to process the weights and wonders of it.
Catherine uses her various traveling opportunities to make friends in different regions and allow them to guide her to a new and exciting destinations. She discovered that running is a great way to connect with people. Catherine has a few locations that she prefers to run. One being along the Rhine river in Germany, where history, beauty, and climate make for an incredible experience. The other is in China; she says that once you are outside the noise and pollution of the cities, the countryside is peaceful. Several times she has run along the Great 'Wild' Wall where you can feel the spirit of past and the present. With ample opportunities and a wonderful attitude, Catherine is one runner that you can count on to share her amazing worldliness.
"The great thing about running is you decide to go and go, you can never undo it. It's always going to have that positive affect upon your day, your life." 
---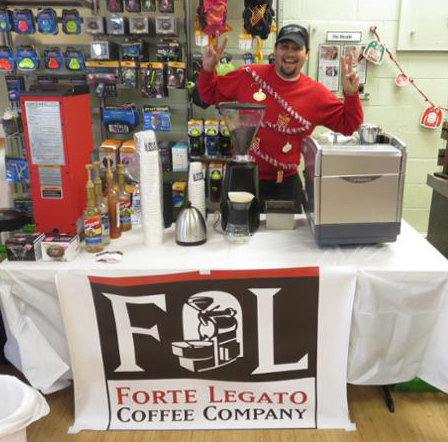 HUMANS OF FLEET FEET SPORTS FORT MILL (highlighting our awesome customers and runners):
Meet Nick Peñaloza - 
Nick began his running journey trying out for cross country during freshman year of high school. Continuing to excel in his running Nick ran at the collegiate level until sophomore year at Wright State University. Nick primarily prefers 5K to 10K distances and has continued to find joy in training for races. He moved to Fort Mill 3 years ago to begin a new journey with his ever popular coffee company Forte Legato. He is now currently a Fleet Feet Sports regular and enjoys running with Fleet Feet Training Programs. Often times, Nick will share his delicious coffee with the training program participants; slinging awesome brews on Saturday mornings.
Please check out Nick's website, and his awesome coffee at https://www.fortelegato.com/
---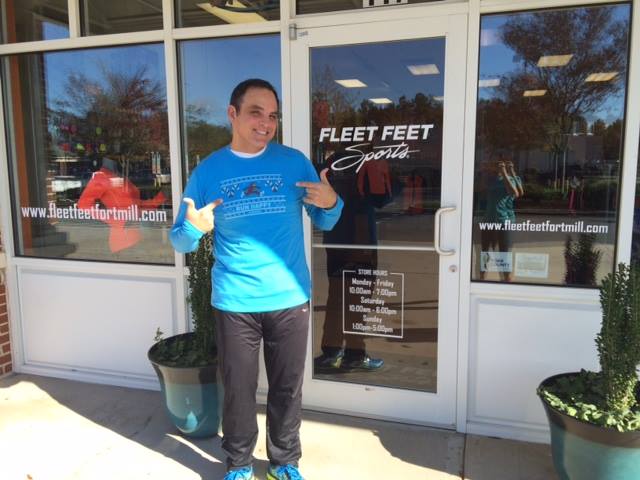 HUMANS OF FLEET FEET SPORTS FORT MILL (highlighting our awesome customers and runners):
Kevin Rayan is an established real estate broker for Wilkinson ERA located in the Fort Mill. He is also an Army National Guardsmen and has been running since the beginning of his service in 1992. As a National Guardsman, Kevin is required to pass the Army Physical Fitness Test annually. In the last few years, Kevin found that he was suffering from health issues and not focusing on maintaining his fitness level. He was no longer able to pass the running portion of his fitness test. This resulted in Kevin being told that there was a possibility of an early discharge from the military. Kevin came to Fleet Feet Sports in Fort Mill last year, asking for some help in passing this test. He decided to sign up to run with the No Boundaries 5K training program. At first Kevin did not believe that running was making much of a difference, but after completing the 12-week program he finally passed with flying colors. He has completed 4 training programs in the last 12 months. Now he has become more inspired to run and has continued moving up in the programs joining the It's a Perfect 10K training program this fall.

In a year Kevin has progressed from failing his fitness test, (which could have resulted in an early discharge) to his First Sergeant commending him for staying focused on getting healthy. His First Sergeant was so impressed at Kevin's transformation he asked Kevin to set a good example to the younger recruits and to be a leader for them during training runs. He hopes to continue to be goal oriented and focused on his running. 

Fleet Feet Sports honors Kevin and all Veteran's for their dedication and service to our country!
---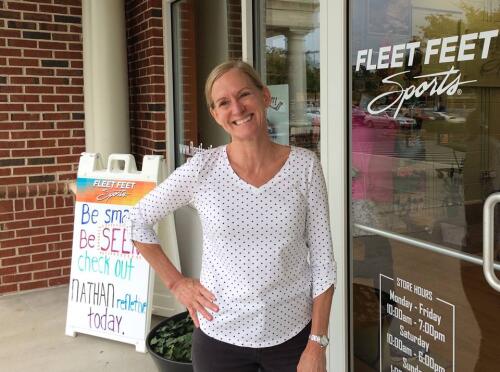 HUMANS OF FLEET FEET (highlighting our awesome customers & runners): 
Mary started running 15 years ago because she was "impressed by people who could run". After playing competitive softball for many years, she discovered her natural ability to run, and has gone on to compete at the National Senior Games held in Minneapolis this past May -- placing 9th out of 24 in her age group for the 5k. And she won Gold at the State level races: 100 meter, 200 meter, 400 meter and 5K road race. Her favorite distance is the 5K road race.

Mary is a Tega Cay resident and former City Council member for 8 years. She currently works part-time as a Medical Radiation Physicist and provides her services nationwide to radiation cancer treatment centers. She's married to the Fire Department Division Commander of Tega Cay.
---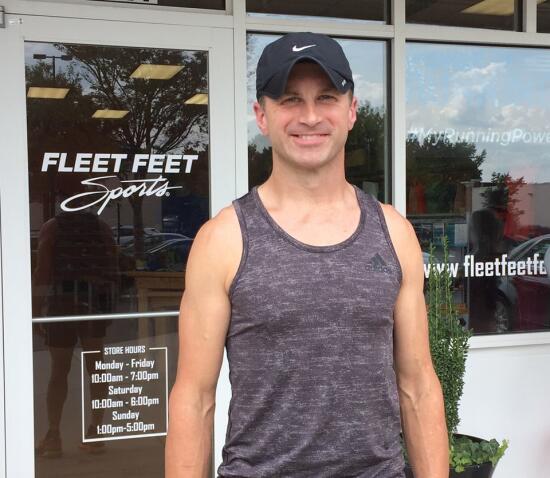 Humans of Fleet Feet Fort Mill:
"Ultra-running is a passion of mine, along with these kids".
Stephen Matjasko is a runner on a mission, and he's going to run a continuous 100 miles over 24 hours to prove it. His "The Run for Attention 5k" on Oct 10th will raise money for the Children's Attention Home & Palmetto School of Rock Hill. On Oct 9th, to draw attention to these services that help abused & neglected kids, Steve will start a 100 mile loop in Baxter Village, ending right before 5k starts. We're proud to call him our customer & Friend of Fleet Feet!