Interested in learning more about RAGNAR Trail Tahoe, looking for other team members, or wanting some inside logistical help from a RAGNAR Trail Warrior?  Then join us on Thursday, April 26th at Fleet Feet Sports Folsom from 6-8pm for an informative meeting and presentation on products to help your event go better.  We'll cover everything you need to know on lighting, hydration, foot wear and more.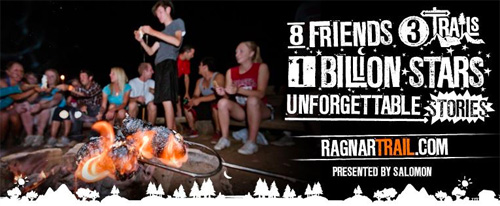 Take your love of mountains, running and Mother Nature to the next level with Ragnar Trail Tahoe-CA, presented by Salomon. On July 20-21, your team of 8 is pit against single-track so sublime and ridgeline running so epic you'll be hooked on that near-gripped euphoria for weeks.
Spend 2 days, plus one star-filled night, out in the woods at Royal Gorge Cross Country Ski Resort, where you'll test your limits on trails that overlook sweeping vistas and views of Lake Van Norden and the Ice Lakes. When you're not running on three different, challenging, fun trails, you'll camp out, party around the fire-pit at Ragnar Village and bond with your teammates.
So, start working on your downhill run, your steep hill climbs and your campfire ghost story-telling now, because this is an event you won't want to miss!
Seminar Details
Thursday, April 26 6-8PM @ Fleet Feet Sports Folsom
Presentation by Yvonne G -Ragnar Trail Warrior & Kirk Edgerton -FFS Trail Coach and accessory buyer/expert
Prizes from CEP, SuperFeet, Salomon, NUUN & Nathan!
To reserve your spot, please go HERE>.