Runner of the Month: Steve King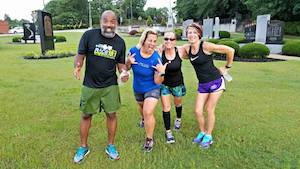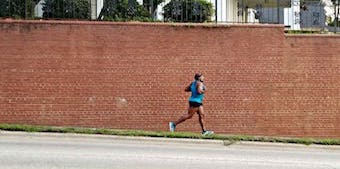 -By Kanchan Gautam
Steve King is a Fayetteville local and an army veteran. He attended Fayetteville State University for a degree in Psychology and now works at Autism Society of North Carolina as a Regional Director. He is very active in the Fayetteville running community and through his work has been an inspiration to all he comes in to contact with.
When did you start running and why?
-  After seeing an unflattering picture of myself post weight gain in 2012, I started walking on a track and eventually added short spurts of running to lose weight. My wife gifted me a GPS watch in December of 2012 and that is when I started running more consistently, and I eventually joined Fayetteville Running Club in 2014.
 What is your favorite thing about Fayetteville Running Club?
-  The people: FRC has a great group of people from different backgrounds and I enjoy running with them. FRC also offers different meet-up times for runs, which is accommodating for people with varying work schedules. I also find running with a group is motivational and helps me push my pace and allows for accountability.
What does your job have in common with running?
-  Helping people: FRC is more than just a running club. We participate in fundraisers and sock drives; we are a community/civic organization as well.  
Besides running what are you passionate about in the community?
- Outside of running I am involved and passionate about community outreach and my church. My fraternity, Iota Phi Theta, also does mentoring and proctoring in the community at local schools.  
Do you have any running goals for 2017?
-  Hitting 1000 miles with FRC and run a half or a full marathon. I am already over 600 miles for the year so very close to my goal of 1000 miles.  
What kind of running do you enjoy?
- I really enjoying sprint workouts as I am working on getting faster.
What is your favorite running shoe?
-The Saucony Triumphs!