By- Kanchan Gautam
You have probably seen Victoria Bella-Harris running around Fayetteville or running an Ultra around North Carolina in her favorite Hoka One One shoes. She is a local runner and a cherished member of two local running clubs; Fayetteville Running Club (FRC) and Mangum Track Club. She moved to Fayetteville in 2008 and has been part of FRC for over two years. She picked up running in Elementary school and ran throughout her school years. During college, running took a back seat for her. Post-graduation she started running again and ran her first race at the John E Norman Cinco De Mayo 10K here in Fayetteville. She has also been participating in the All-American Marathon since their Inaugural race in 2014 and has gone on to beat the previous year's time consecutively. She recently ran the 12thAnnual Hinson Lake 24 Hour endurance race and the Tuna 200 Mile Relay race. We asked her to provide us thoughts about her experience with Hinson Lake.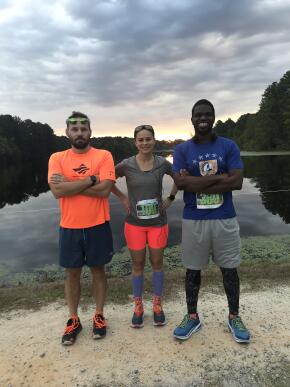 The Annual Hinson Lake 24 Hour Race is on its twelfth year and takes place at the end of September in Rockingham, North Carolina. Cost per entry is 35 dollars. Per its name, the race runs through a 1.5-mile loop around Hinson Lake and runners attempt to run as many miles as possible during the 24 hour time frame. The loop is a well maintained trail that is fairly flat, rocky with minimal overgrown roots with some breathtaking views. Most runners will take breaks during the 24 hour time period and some runners might drop out of the race earlier.
Victoria's main goal for this race was to complete 100 kilometers or 62.13 miles, however due to some nausea around mile 55, she decided to call it a day at mile 57.12. She placed 22 out of 171 in her gender and was able to run for a total time of 14 hours 22 minutes and 28 seconds. 
Asked how likely she would be to run the race again next year Victoria said very likely as she had a great experience with the race itself and found it to be extremely well organized. The aid stations were well stocked and provided plenty of water, Gatorade, sodas, variety of snacks ranging from ramen noodles to PB&J, band-aids and Vaseline. Volunteers always had water cups full for runners and the Port-a-John's had ample supply of toilet paper at all times. Runners and volunteers were allowed to set up camp the night before and allowed to bring grills and campers as well. 
Victoria drove up the day of the race with a group of FRC members and fueled herself using a combination of energy gels, pizza, ramen and boiled potatoes. She decided to take the race easy instead of pushing herself too hard and walked when she had to. After mile 55, she was unable to keep any liquids or food down due to nausea and eventually decided to stop at mile 57. Even though she did not reach her goal of 100 kilometers, she did make it 7.12 miles further than her last 24-Hour race beating her old record. Besides nausea, she also experienced some chaffing and blisters. As a runner, she is still trying to figure out what works best for her and finding products and technology that help with these issues during her ultra races. Her biggest challenge was experiencing low spirits due to ending her race earlier than anticipated. However, she has a very positive outlook looking back on race day and feels she gave this race her best effort. She understands sometimes even with your best efforts your race might not go how you expected.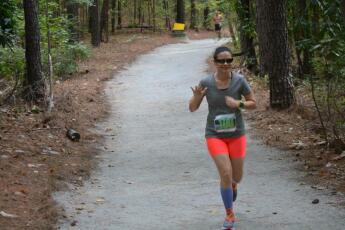 One of the reasons Victoria enjoys running Ultras is for her it parallels life; one could potentially go through many ups and downs in a race, but you always look forward to the ups in life and know the bad times will eventually pass. What any distance runner knows is that if you stick it out through the hard times and mental lows, you will eventually get to a better place and maybe a few miles closer to your end goal. This whole concept exemplifies life for Victoria.
She has also found running ultras have affected her life in ways she did not imagine possible. She has found they have allowed her to have more faith and believe in her own abilities to accomplish things she sets out to achieve. Through relentless assertion, she has been able to reach her full potential in running, career and life itself. Victoria will continue attempting 100K races and would eventually like to complete a 100 Mile race one day.
 She plans on running the Weymouth Woods 100K Endurance race in Southern Pines and is also looking forward to the Nutcracker 12 Hour endurance race this December.