By- Kristin M. MacDonald, MS, RD, LDN
Owner, Healthy Appetites Nutrition Counseling, L.L.C.
 This month's feature food is Ezekiel 4:9 Bread made by the company Food For Life.  With only 80 calories per slice this bread is the perfect starch portion size.  It also contains a good amount of protein (4 grams per slices) and fiber (3 grams per slices).  Protein and fiber both increase satiety and positively impact blood sugar, and soluble fiber has been linked to lower cholesterol levels.  Reading the nutrition facts label reveals that one slice of Ezekiel 4:9 Bread has a good blend of essential micronutrients including B vitamins, potassium, phosphorus, magnesium, iron and zinc. 
Ezekiel 4:9 Bread contains no high fructose corn syrup, added sugar or preservatives, ingredients that are common in many breads you'll find on grocery store shelves.  Ingredients include whole grain wheat, barley, millet and spelt.  Ezekiel 4:9 Bread also contains legumes, like lentils and soybeans, which are a good source of complex carbohydrates and protein.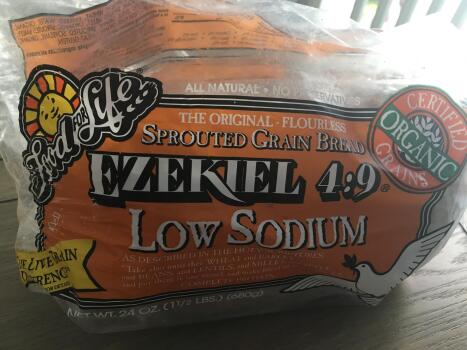 A unique feature of Ezekiel 4:9 Bread is that it contains sprouted grains and legumes.  Sprouting is a natural process where seeds germinate and plants begin to grow in the presence of water.  There is some information suggesting that sprouting grains increases the bioavailability of nutrients in these grains, making the nutrients easier for our bodies to absorb.  Also, it may be easier for our bodies to digest sprouted grains.  All sprouted grains are whole grains, so including sprouted grain products, like Ezekiel 4:9 Bread, in a well-balanced diet can help you increase your overall intake of whole, unrefined grains. 
 You'll probably find Ezekiel 4:9 Bread in the freezer section of the grocery store, since it is preservative free and keeps better frozen.  A downside is that Ezekiel 4:9 Bread is more expensive than some other breads.
 Check out this month's recipe below, PBJ French Toast, featuring Ezekiel 4:9 Bread as a main ingredient!
This dish is breakfast fusion at its best!  Do you love a peanut butter and jelly sandwich AND french toast?  Why not have these classics together in one delicious bite.  My recipe calls for Ezekiel Bread, this month's "Feature Food" that boosts whole grain goodness.  Eggs and natural peanut butter increase the protein content of this dish.  Paired with fresh fruit PBJ French Toast can be a fun and healthy way to start your day. 
Servings: 2 to 4
INGREDIENTS
2 eggs
¼ cup whole milk or half-and-half
2 teaspoons vanilla
1 teaspoon cinnamon
4 slices Ezekiel bread (thawed if frozen)
4 tablespoons natural, creamy peanut butter
4 tablespoons strawberry jam
1 tablespoon butter
DIRECTIONS
1) Combine eggs, milk, vanilla and cinnamon in a wide, shallow dish to create the custard mixture.
2) Divide peanut butter and spread evenly on two slices of bread.  Divide jam and spread evenly on the other two slices of bread.  Put the peanut bread and the jam bread together to form two peanut butter and jelly sandwiches.
3) Dip each sandwich into the custard mixture.  Poke bread in several spots with a fork to help it absorb the custard.  Flip the sandwich to allow for absorption on both sides.
4) Melt butter in a skillet over medium-high heat.  Cook sandwiches in skillet for 2 to 3 minutes per side, until sandwiches are golden brown in color. 
Dust PBJ French Toast with powdered sugar and serve with a side of fresh fruit - YUM!