By- Kanchan Gautam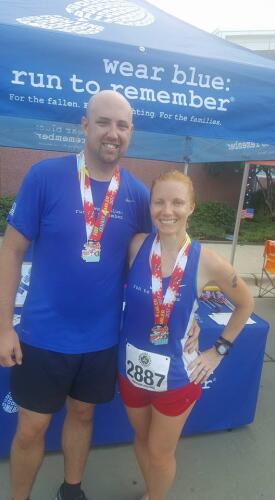 What is better than running for fun? Running for a great cause! We had the opportunity to sit down with Jackie Demchock of Wear Blue: Run to Remember Fort Bragg Chapter and find out what drives her and why Wear Blue is an empowering organization for military families who have lost a loved one. Jackie, who is an Ohio native, has been a first grade teacher for fourteen years and moved to Fayetteville for a job.  She is the co-president of Wear Blue chapter based in Fort Bragg.
When did you start running?
I ran in Middle and High school but did not get back into running again until about five years ago. I ran for a Girls on the Run program through the YMCA. I am a very competitive person and after seeing my time for the Girls on the Run 5K, I know I could do better and started running persistently.
How did you get involved with Wear Blue?
My son plays soccer and we frequent the Jordan Soccer Complex for practice. While he practiced, I would run the Cape Fear River Trail and often see people wearing the blue shirts. One day I asked what the shirts represented and was introduced to Wear Blue. Ever since then I have been involved with the local chapter. Wear Blue was started by two Gold Star wives in Washington and has about 14 chapters across the nation. It is an amazing group of people who encourage and motivate one another. Joining this group has also made me a better runner through encouragement and coaching from others in the chapter.
 What do you love about the running community in Fayetteville?
The running community here is very tight-knit and family like. Everyone is very supportive and will even travel to run races together. There are multiple group runs throughout the week and you can always find someone to run with you or a group run. You will never have to run alone in Fayetteville! 
What do you consider your biggest running accomplishment?
Last year I did the All American Marathon, this was my first full marathon. I was running for Steven Ayala through Wear Blue. I hit a wall at mile 18 and really wanted to take an Uber. Thinking about Steven and his wife's motivational texts are what kept me going and helped me push past the rough spot.
 Do you have any personal running goals for this year and the future?
 I want to run half marathons in all 50 states. So far I have crossed off NC, VA and PA. I am planning to do one of the Rock & Roll ones for next year. My husband and I will also be running the Army 10 Miler this fall.  This will be his first time running a distance longer than 4 miles, my goal is to make sure he has a fun experience and get him to the finish line!
What about goals for Wear Blue?
I would love to expand the chapter and that is why I don't have very many races for this upcoming season. I have been focused on growing the Wear Blue Fort Bragg chapter as a co-president. All American Marathon and Mike-to-Mike half, Wear Blue has a remembrance mile, next year instead of running it I plan on being on the sideline cheering people on!
Do you have any crazy running superstitions?
Yes, I never sign up for my own races! I have to have someone else register me for my races; usually this task falls on my husband. I let him know the race I want to run ahead of time and he will register on my behalf. I also have to wear bright colors, and have my outfit, shoes and accessories planned and picked ahead.