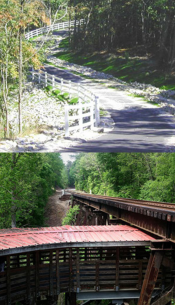 Cape Fear River Trail
Entrances : Tree Top Drive, Fayetteville, NC 28311 & 631 Sherman Drive, Fayetteville, NC 28301
The trail is a 10-foot wide PAVED path for walkers, joggers, bicyclists and others utilizing non-motorized transportation. It winds from point-to-point for 5.5 miles through a beautiful blend of trees, plants and wildlife with spectacular views of the river. The terrain can be flat to slightly hilly. In addition to the wooden bridges, including one covered bridge, there is over 1,000 feet of boardwalk through the marsh and wetlands along the trail.
---
Smith Lake Trails
Entrance: 2812 Smith Lake Road, Fort Bragg, NC 28310
At Smith Lake there are multiple trails to choose from. The main trails being the single track mountain bike trails that are also open to runners. These trails form a 7 mile loop that is broken down into three sections that progressively get more difficult for the mountain biker and hilly for the runner: beginner (green), advanced (blue), and expert (black). There is also a 5 kilometer long nature trail, and some off shoot trails from the mountain bike loop (red and brown).
---
The All American Trail
Entrance : 1623 Hobson Rd, Raeford, NC 28376
The All American Trail is a ten to fifteen foot wide unpaved pathway designed for use by hikers, runners, and bicyclists. The trail (currently 21 miles long) follows the perimeter boundary of Fort Bragg through North Carolina's sandhill region and includes a 1,000 foot boardwalk that crosses Rockfish Creek and its wetlands. The terrain is mixed with sections ranging from nearly flat to fairly hilly. This trail is closed during hunting season for all other activities.
---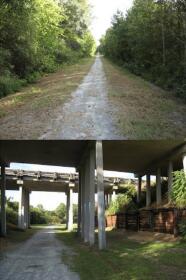 Dunn-Erwin Rail Trail
Entrance : 115 E H Street, Erwin NC
This crushed stone 5 mile trail is perfect for the runners, walker and cyclists!
---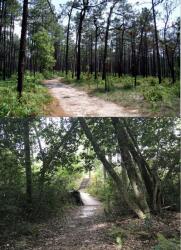 Weymouth Woods- Sandhills Nature Preserve
Entrance next to:1024 N Fort Bragg Rd, Southern Pines, NC 28387
About 50 minutes drive from Fayetteville, this 915 acres of nature preserve located in Southern Pines offers some easy-mild trails for runners and walkers. Observe plant and animal life along more than 4.5 miles of trails accessible from the visitor center. These easy, well marked trails provide access to a variety of plant communities.
---
Raven Rock State Park Trails
Entrance: 3009 Raven Rock Rd, Lillington, NC 27546
About a 40 minute drive from Fayetteville/Fort Bragg, but with around 20 miles of trails, Raven Rock State Park is a great place to go run on the weekends or on a day off. The majority of trails are not very technical and great for runners, hikers, and jogging strollers. The most technical trail, which is rated at a moderate level and great for runners and hikers, is the Campbell Creek Loop Trail and is a fairly hilly and mostly single track 5 mile loop.
---