Join Fleet Feet Sports Des Moines for our first ever "Sandwich Run" Saturday, March 7th.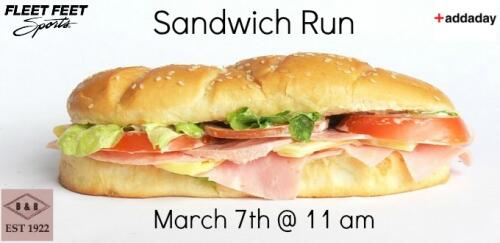 At 11am, you'll run from Fleet Feet to B&B Grocery Meat Deli (1.5 miles).  B&B is a Des Moines institution, since 1922, and has appeared on several cable food shows for their "Killer Sandwiches".  At B&B you'll get your "Killer Hoagie" and return to Fleet Feet with sandwich in hand.  Upon returning, you'll eat your sandwich. 
Prizes for:  First male, first female, closest to guessing your time 
Cost:  $10.00  
Entry Deadline:  March 5th (so your sandwich will be ready for you Saturday) 
Email Andy at  andy@fleetfeetdesmoines.com to register!