DMARCC and the Food Pantry are having a "Spring into Action" event 4/15 - 4/22 to raise visibility and support for the Food Pantry of Iowa, which serves tens of thousands throughout central Iowa.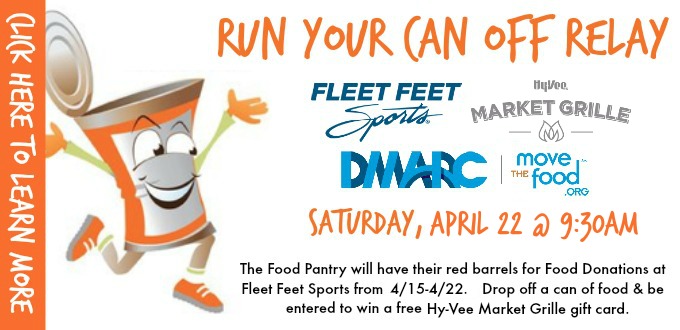 Fleet Feet Sports is supporting the week with "Run Your Can Off".

"Run Your Can Off" has two elements: 

1. The Food Pantry will have one of their red barrels for Food Donations at Fleet Feet Sports from 4/15 through 4/22. Everyone who drops off a can of food will be in the running to win a free gift card to the Downtown Hy-Vee Market Grille.

2. Fleet Feet Sports Des Moines will have a "Run Your Can Off" run on Saturday 4/22 @ 9:30am at our store. There will be two legs of the "relay."

Leg1: From Fleet Feet to B&B Grocery & Deli (1.5 miles). Participants will buy cans of food to donate. 

Leg 2: From B&B Grocery & Deli back to Fleet Feet (1.5 miles) running with the cans. 

Time will be deducted based upon the number of cans a person carries. 

Prizes will be awarded to the fastest man and woman, and the person closest to guessing their time.