KEY WEST 5K and Half-Marathon DESTINATION RUN - JANUARY 14, 2024
DATES: Thursday, January 11- Monday, January 15, 2024 (Race Sunday, January 14)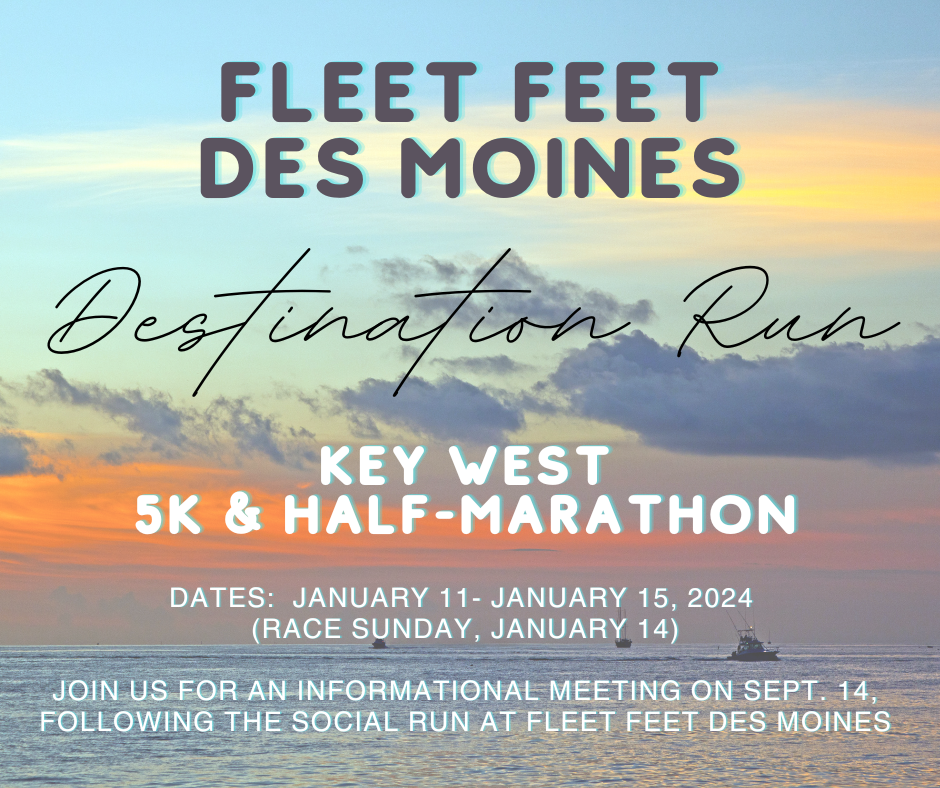 How does Key West sound for a January get-away? Come and see...on Thursday, September 14 at 7:00 PM for a 20-30 minute info session in the store. Then sign up and join Fleet Feet Des Moines for our first destination run since COVID! The destination is a fun-in-the-sun Key West Half-Marathon and 5K on January 14! We have group rates for airfare and hotel arranged in Key West, so all you need to do is train, register for the race of your choice, and commit to joining us for the fun! We'll fly the morning of January 11 and return Monday, January 15. There is plenty of free fun there as well as excursions and shopping, so there is something for everyone!
Additional info below!
WHO: Singles and Couples, 18+
INCLUDES: Airfare and 4-nights Lodging with Breakfast (DoubleTree Resort by Hilton Hotel Grand Key - Key West with 2-Queen Beds), Transportation to/from Key West Airport and if not downtown also shuttles to downtown and various beaches and parts of the small island
DOES NOT INCLUDE: Race entry fee, transportation off-island (unless arranged in advance or part of a group excursion).
COST: $1625 double-occupancy (encouraged for more fun!); $2635 single-occupancy. Race entries are Key West Half Marathon & 5K, Rum Stroll & Beer Mile (runsignup.com):
· Half-Marathon $149.99 after 9/2; $104.99 through 9/2 10:59 PM CDT
· 5K $65.99 after 9/30; $60.00 through 9/30
Key West is a historic Civil War town, with shopping, snorkeling/scuba/fishing excursions, historic parks, beaches, and sites honoring Tennessee Williams and Harry S. Truman (Little White House); within this timeframe there is also a literary seminar (https://www.kwls.org/seminar/) and much more (https://fla-keys.com/key-west/things-to-do/)!
In addition to Double Tree resort features, there are many possible Key West area activities! Shuttles are free for these (all but two are 2.5 miles to 3.9 miles from the DoubleTree):
· Ernest Hemingway Home & Museum, 907 Whitehead Street, 9-5 M-Sunday, 305-294-1136; www.hemingwayhome.com ($12 or so/adult)
· Fort Zachary Taylor State Park Beach and Historic State Park, 601 Howard England Way, 305-292-6713, www.fortzacharytaylor.com
· Key West Marine Park (Southernmost Point in Continental USA) 1520 Alberta
· Barefoot Billy's Water Park, .7 miles from hotel, 3841 N. Roosevelt Blvd.
· The Metal Edge - FishBone Design art gallery, .9 miles from hotel, 7281 Shrimp Rd., 9-5 M-F, 917-577-8495
· Key West Butterfly & Nature Conservatory (zoo), M-Sun. 9-5:30, 1316 Duval Street, 305-296-2988
· Shopping appears to be downtown
· US Hwy 1 Mile Marker 0 is at Whitehead St. & Fleming Street
· Key West Museum of Art & History*, 10-5 daily (last admission at 4:30)281 Front Street, 305-295-6616; $7.50-$15.50/person
· Key West Lighthouse & Keepers Quarters, $7.50-$15.50/person, $11.50 for Senior/College/Retired; Free for active military
· *Key West Culture Pass grants admission into the Custom House, Fort East Martello, Key West Lighthouse & Keeper's Quarters, and the Tennessee Willams Museum, $45 General Admission, $40 Senior Age 62+, Retired Military or College Student with ID, $20 Youth 7-18