February is American Heart Association Month
On February 14, 10% of all apparel purchases at Fleet Feet will go to the American Heart Association! Stop in and shop for a good cause!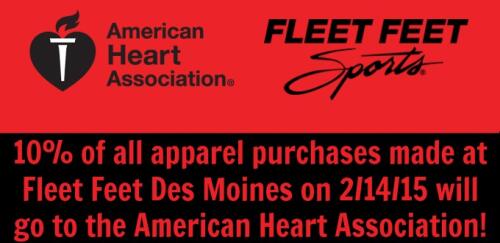 Heart disease is the leading cause of death for both men and women, killing one in three adults. To help prevent heart disease and increase awareness of its effects, Fleet Feet Sports is proudly participating in American Heart Month! Throughout the month of February our weekly newsletter will include tips on how to keep your heart healthy.
Tip #1: Know Your Heart Score
Learn why it's important to know your heart score. Think you are eating right and getting enough exercise? It takes five minutes to make sure. Take the My Life Check and find out where you stand.