WINTER WARRIOR TRACK SERIES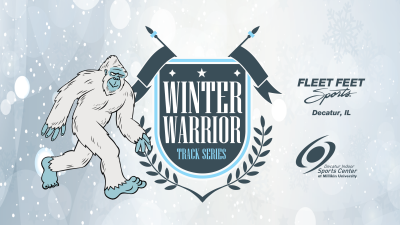 November 18-  demo brand coming soon 
December 16- demo brand coming soon
January 20- demo brand coming soon
February 17- demo brand coming soon 
Join Fleet Feet at the Decatur Indoor Sports Center for a guided track workout one evening a month November-February. These simple track workouts will last 30min-1hr and will keep you on top of your running during the colder winter months. Each event will offer shoe demos for your workout (or you can wear your own). Cost is FREE to DISC members and $2 for non-members.
All participants will receive a raffle ticket at each event. Raffles will be drawn at the end of the series. All levels of runners and walkers are encouraged to attend. 
For more information visit our facebook page.
(*please note we will replace our regularly scheduled 4pm Monday Night fun runs with these event for these dates only)
Each participant will receive a raffle ticket at each event. Drawing will be held at the end of the Winter Warrior Track series.