Kyle May is co-owner of Fleet Feet Decatur, IL  with his wife, Donna. Kyle and Donna have owned Spin City Cycles since 2002 and decided to expand with the addition of Fleet Feet Decatur IL in 2014.  Kyle has been an avid cyclist since he was 14 years old. 15 years ago, he started doing triathlons, and therefore, started running. In 2013, Kyle completed Iron Man Louisville. Kyle is currently in charge of ordering footwear for Fleet Feet Sports. Although he would probably say he is the head sock installer. He is knowledgeable on all brands carried in the store and can lead you in the right direction to meet all of your work out needs!
Kyle's favorite product:  My favorite product is the CEP Dynamic+ Short Compression Sock. It fits like a glove for ultimate comfort while aiding blood flow and preventing blisters.
Kyle's favorite shoe: I have a lot of favorites, but right now I'm really liking the Saucony DXN Trainer from the Classics Collection. It's a nice casual shoe that provides quite a bit of comfort for standing around for long periods of time.
Kyle's fun fact: Before doing Iron Man Louisville, I had never run a stand-alone marathon or run over 14 miles at one time.
Donna May is co-owner of Fleet Feet Decatur, IL with her husband, Kyle. Donna teaches in Mt. Zion, Illinois where she has taught for the past 22 years. She started running after college to get healthy and meet new people. She ran 5k races for the first 15 years of running, but moved into half marathons after having her second child in 2010. At the urging of a friend, Donna completed her first full marathon in Chicago in 2013. She has since run the Quad Cities Marathon and the Chicago Marathon again. Donna currently organizes and coaches/mentors the training groups at Fleet Feet Sports. She is knowledgeable on getting started in being active and increasing distances over time. She is also able to guide you in your fueling process for the various distances.
Donna's favorite product:  I am a huge fan of the FlipBelt running belt and the FlipBelt water bottles.  This running belt fits perfectly around your waist without buckles or adjustable bands. It securely fits everything you need for exercise, including your phone, fuel, and FlipBelt water bottle. The water bottle fits securely in the back section without a lot of jiggling or chaffing. This has come in very handy during recent weeks of high temperatures and humidity! The FlipBelt is not only great for many types of exercises, but it can also be used it to hold up dress pants that don't have belt loops and to hold valuables while walking around the zoo or fairs with your children.
Donna's favorite shoe: My favorite shoe is the Hoka One One Bondi. I have run in a variety of brands and even other Hoka One One models, but this one is my current favorite. It is the most cushioned shoe in the Hoka One One line. It is primarily designed for running on hard, man-made surfaces, which is exactly the terrain I love most. The Bondi has carried me injury free to many finish lines!
Donna's fun fact: I have been inducted into my high school and college Hall of Fames as part of successful volleyball teams.
.
Heather Dodson - Store Manager and Training Program Mentor
Heather joined the Fleet Feet Team in 2015. She took up running over 14 years ago striving to finish a late night lake lap in hopes to get active and maintain her sanity. She has completed many 5Ks and Half Marathons while inviting friend after friend on this journey with her. She is the store manager, an active Fleet Feet "fun runner" and Training Program Mentor. With over 15 years in the fitness industry and training in several areas she is always willing to help guide you through your runs.
Heather's favorite product:  I love the FlipBelt! There is nothing better than putting in a pair of wireless headphones and having everything you need tucked away in your FlipBelt. And now there is even custom made water bottle. Could it get any better? It's the modern day fanny pack!
Heather's favorite shoe: My favorite shoe is the Brooks Ghost. I love the comfort and cushion this shoes gives. It is my favorite for long runs.
Heather's fun fact:  I got engaged in St. Louis the night before my 4th  half marathon. I managed to keep it a secret until I crossed the finish line!
Diana Coombs - Fit Specialist, Training Program Mentor
Diana, is no stranger to the store as she has participated in three Training Programs, was a previous WalkFit mentor and coach! She is a great addition to the team and loves sharing her journey and the knowledge she has picked up along the way. 
Favorite Product: I fell in love with the OOFOS sandals after I wore them on my vacation in Florida. They have been great for recovery after races and just everyday wear.
Favorite Shoe: My favorite shoe that we carry in the store is a toss up between the New Balance 860 and the Saucony Guide.
Fun Fact: I attempted to live in the wilderness for two months with no supplies except for an old handkerchief that was given to me from a priest who blessed me on my adventure.  I only lasted about 3 days until the need for a margarita became too strong...
Sydney McRae - Fit Specialist and Training Program Mentor
Sydney is a teacher and works part-time at Fleet Feet Sports.  Sydney has been a runner for 22 years and triathlete for 17 years.
Favorite product: Balega socks with the combination of Drynamix and mohair.  Sydney feels wearing wool socks year round helps with the prevention of blisters.
Favorite shoe: Hoka Bondi. Sydney prefers Hoka shoes for the cushioning they provide and has mostly worn Hoka's since 2012.
Fun fact:  Sydney has completed three full Ironman races (140.6)
Patrick Tharp - Fit Specialist
Patrick is a graduate from Millikin University and has been a member of the Fleet Feet team since originating in 2014.  Patrick had a running lifestyle through high school and was a member of the 2011-2012 Mt. Zion Cross Country State championship team, in addition to running competitively for two years at Millikin University. 
Favorite Product: My favorite product is the Nathan's sport wash.  After being outside all day, especially on a hot day nothing gets your clothes fresher without lingering smells and bacteria.
Favorite Shoe: My favorite shoe is the Saucony hurricane.  It provides me the support I need throughout the day, as well as that little extra cushion to keep me feeling fresh all day.
Fun Fact: While I no longer run competitively, I love to go kayak fishing and being in the outdoors.
Shawn VanDolah- Fit Specialist
Shawn is a graduate from Lincoln College in Lincoln, IL. He also attended Millikin University for a year. Shawn ran track from middle school to high school, and cross country and track at Lincoln College. He qualified and competed in the 2009 NJCAA National Championships.  He loves helping people find relief in running and their everyday lives.
Favorite Product: CEP Compression Calf Sleeves.  They Greatly reduce the fatigue in my calf muscles and help with short term recovery after a hard workout.
Favorite Shoe: Hoka One One Huaka.  I bought one pair and loved it so much, I couldn't help and buy others. It is my go to shoe if I do any type of run.
Fun Fact: I inherited Welsh Corgi Dog named Lena.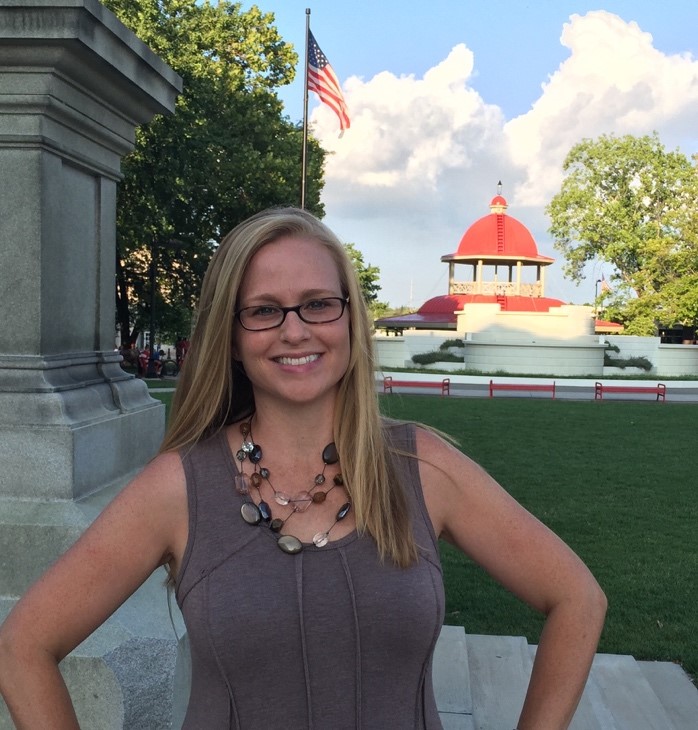 Audrey Loud is a Training Program Coach and has mentored with our programs since the opening of the store. She started running in high school and has fallen in and out of love with running over the last 25 years. As her children have gotten a bit more independent, her love of running has been rekindled and she enjoys helping others find their love of running. Audrey ran her first half marathon in Champaign in the spring of 2016 in 1:53:05. She contributes her success to speed workouts and surrounding herself with a very supportive running community.
Audrey's favorite race: I run primarily to maintain my own sanity so that I can be a better wife, mom, friend, etc. Running helps me to balance life better. Running to race has not been my primary focus or reason behind running, but one race that sticks out in my mind is the Chicago Hot Chocolate 15k. I absolutely love Chicago and seriously, who doesn't like running for hot chocolate & some chocolate fondue. This is a race that I highly recommend grabbing some friends so you can enjoy it together!
Audrey's favorite shoe: My favorite shoe is the Hoka Constant 2. It is a highly cushioned running shoe with stability. This shoe was incredible for my half marathon training. The shoe lasted me throughout all of my training and I made it through race day without injury!
Audrey's fun fact:  I started a mother/daughter book club this summer because I missed cuddling with my daughter (9 yrs old) and a good book each night. Now she looks forward to that time together as much as I do & she's making new friends who love books as much as she does!