"Under Armour makes running shoes?"
This is a common question, spoken in a genuinely curious tone. Yes, it's true. The company best known for it's high performance apparel now makes running shoes. And they're good ones.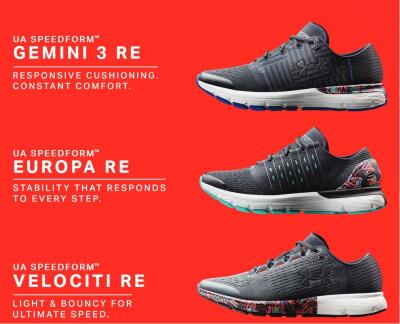 This month, Under Armour has released three new shoes available here at Fleet Feet Decatur. There are two neutral styles--the Gemini RE and the Velociti RE; and one stability style--the Europa RE. These shoes are well-cushioned, stylish, and built for performance. But it doesn't end there. The "RE" at the end of the name is short for "Record Equipped." The company acquired online fitness tracker MapMyRun at the end of 2013. They've incorporated the technology from the MapMyRun application into the new running shoes. A Bluetooth chip in the right shoe records data during workouts--such as distance, pace, mile splits, shoe life, and cadence--and syncs it with the users account on MapMyRun.
Under Armour says their goal is to democratize the technology that has previously only been available to elite athletes. The three Record Equipped shoes also feature a unique "jump test" never before seen outside of select sports labs. The jump test involves the runner jumping six times quickly before going for a run. The shoes collect the data about airtime, and the app uses the information to assess the runner's level of fatigue before going for a run. This development is significant for injury prevention. For athletes who would rather push the limits than take a rest day, this function serves as a check on the ego. After analyzing the data, the app provides the runner one of three recommendations for the ensuing workout--Go Hard, Hold Steady, or Take it Easy. The intended result is that runners would use the information to avoid injury, and keep their training on track.
If it sounds like these shoes have enough features built in to cost a fortune, you'd be wrong. The Gemini RE and Europa RE are priced at $160, and the Velociti RE is priced at $140. Both price points are comparable with other shoes that DON'T offer the technology. Plus, with the purchase of a pair of Under Armour Record Equipped shoes, the runner gets a free year of MVP service to MapMyRun, a $30 value.
These are shoes that must be experienced. Come by the store to try them out!