"Fleet:" adjective; quick or nimble movement. Synonyms include nimble, agile, lithe, and light-footed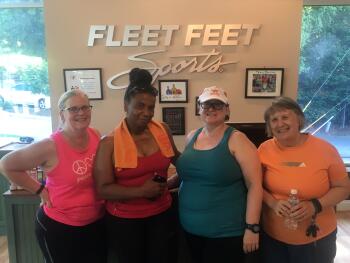 There is a myth that persists for some. That myth says that if you do not run, a store with "Fleet" in the name must not be for you. The myth says that if you are not out chasing PR's, not competing to win your age group at the local 5K, that if you prefer to walk your neighborhood for exercise instead of run, then you should shop elsewhere. We're here to tell you this myth is false.
Fleet Feet Decatur is a store for runners AND walkers of all paces. Yes, we do enjoy training runs and helping people achieve aggressive personal fitness goals. But we do not believe that this pursuit of betterment is limited to just runners. We believe in promoting healthy lifestyles for runners and walkers alike, regardless of preferred speed.
The same basic qualities that make a good running shoe also make a good walking shoe. Inclinations to neutral or stability styles, preferences for high or low amounts of cushion, and weight factor into determinations about the right shoe whether you choose to move quickly or at a more relaxed pace. The same socks, shorts, and technical shirts that make sense on the starting line for the Peachtree Road Race also make sense on the morning walks around the neighborhoods of Decatur. We use the same FIT process to serve both sets of customers.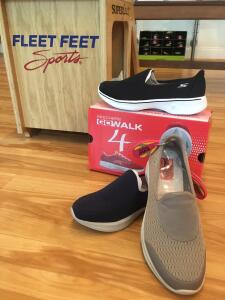 In addition to our broad range of shoes for those who like to walk for exercise, we have recently added the Skechers GoWalk 4 as a light-weight casual shoe for walking to shops or dinner. This shoe is exceptionally comfortable and is available in three colors in-store in women's sizes. For both gals and guys, we also have the Cloud On, which is excellent for running, walking, or just wearing casually about town.
Beyond footwear and apparel, walkers also frequently join our Wednesday evening and Saturday morning Fun Runs, where all paces are welcome. While some sweat it out on a 4-mile tempo run, others meet up at the same time to walk two miles around downtown. We hope you'll join us, too.
Decatur is a wonderfully active community. It brings us joy to see so many people out on weekday evenings and Saturday mornings--walking OR running. And it's our privilege to serve you all!