We've added GPS Fitness watches to our mix of running essentials at Fleet Feet Decatur. Losing track of your pace, heart rate, or mileage on the Beltway or out around Stone Mountain is a thing of the past with these. We have watches that work for everyone from beginners all the way to elite athletes, and everyone in between. Today, we'll spotlight two of the many different options we offer in-store.
Garmin Forerunner 235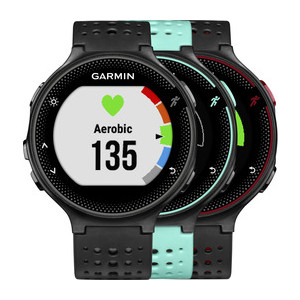 The new Garmin Forerunner 235 offers terrific benefits for everyone from walkers to high-performing age groupers.  The Forerunner 235 tracks time, pace, heart rate, distance, and more. A useful feature of the Forerunner 235 is its ability to track heart rate from the wrist. This is welcome news for anyone who finds the conventional chest strap with most heart rate trackers a nuisance. The user interface is very simple to use. It offers display options that users can customize to suit their unique needs. To get the most out of the Forerunner, users register their watch to Garmin ConnectTM, the company's online system for logging workout data and connecting with other athletes. Once registered, the watch automatically sends workout details to the users Connect account for maximum ease.
For walkers, the Forerunner 235 acts as a fully-functional fitness tracker, logging steps, heart rate, calories, and even sleep patterns. It even prompts users to get up and move around once an hour if it senses the user has been idle too long. This is the perfect reminder for days at the office spending long hours at a desk. The Forerunner 235 also allows users to download workouts, data fields, and unique watch faces via the Connect IQTM system. Battery life is good--up to 11 hrs in full-on training mode, and up to nine days when acting as a watch with ambient fitness tracker activity (step and calorie counting, sleep patterns, etc.).
Tom Tom Spark Cardio + Music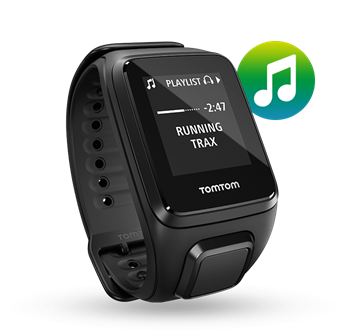 The Tom Tom Spark brings all the features of a standard GPS watch with one very unique bonus. In addition to tracking distance, pace, time, and heart rate, the new Spark also allows users to store over 500 songs directly onto the watch. This means that runners don't have to worry about bringing their iPod or phone along for the ride (that weight adds up). Like the Forerunner 235, the Spark allows users to track heart rate on the wrist, ditching the chest strap. The Spark also has features that help users set and meet their fitness goals. These include direct audio coaching from the watch. The Spark also contains multi-sport modes for cycling, swimming, gym workouts, and treadmills. Also similar to the Forerunner 235, the Spark functions like an all around fitness tracker, capturing steps, burned calories, sleep patterns, and active minutes. Battery life on the Spark varies widely, from five hrs with music + GPS + fitness tracking, all the way to three weeks when just functioning as a watch and fitness tracker.
Which is right for you? Come by the store to see for yourself and check out the rest of our new GPS watch line!