How much is it worth to you to be able to effortlessly know (without pen & paper) how many miles you've run in your shoes? How much to get the pacing and distance information you want plus insights into your stride length, cadence, and foot strike to help you improve the efficiency of your stride? How about to be able to keep a log of extensive run details for months worth of runs?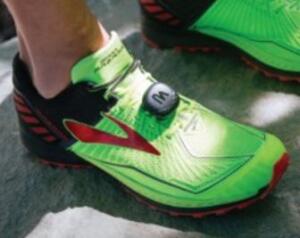 We recently began carrying a new product called Milestone Pod. It's a wearable device that clips onto your shoe and pairs with a free mobile app to sync data to your phone. Before we put them on the shelves, we put them to the test.
Run computers like Garmin or Tom Tom have advanced to the point they give very rich detail for athletes. Stats like distance and pace have become table stakes. But we quickly learned that the Milestone Pod, while providing distance and pace, also provides a class of information that Garmin, Tom Tom, and others like them simply cannot give in their current form.
Setup of the Pod was fairly easy, including downloading the free app and syncing it with the wearable device. During setup, you associate the Pod with what shoes you have so that you can keep track of total miles on your shoes towards the goal of 400 miles, when it's time to replace them.
Once setup is complete, clip the battery-powered Pod to your shoe laces, and head out the door. It does not provide data in real-time, so leave the phone at home if you'd like. Run free. There is no on/off switch. The Pod detects the motion of footsteps and begins recording. Come back when you're done, and you can sync the Pod to the mobile app to see full details about your run. These include foot strike (heel, mid, toe), stride length, cadence, rate of impact (high, mid, low), and a "Runficiency" score that aggregates all these metrics into a single number. Additionally, we found that the app keeps all of these details in a run log that's easy to use and navigate.
Criticisms from our testing are few. Battery life could be improved, but Fleet Feet has additional batteries and will replace your first battery for free. Also, because there is no on/off switch, the pod will record running and walking without distinguishing between them. If not careful, this can skew data regarding average pace, stride length, and other metrics. This is easy to overcome by simply taking the device off your shoe when you want it to stop recording.
Does it replace other running computers? We don't think so. It may for some people, but the overlap between most running computers and the Milestone Pod is only slight. The Pod only applies for running, while others may also work for cycling, swimming, or multi-sport. 
So where does all of this get us? Back to our original question.
What's it worth to you to be able to get all of this out of a single, easy to use product? Because it retails for only $25, and the app is free. And that sounded like a pretty great deal to us.