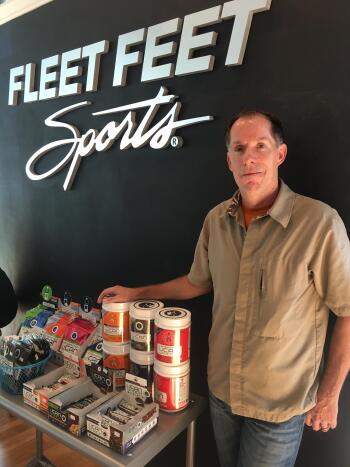 Generation UCan Race Nutrition is exploding in popularity right now. But what is it? And does it work? We've done the dirty work to test it for you and are sharing our results with you below in the first article in our "Expert Review" series.
Generation UCan is a complete line of race nutrition, including drink powder for before workouts, recovery drink mixes, in-race hydration, energy bars, and more. The product originally began not as a race nutrition tool, but as a medical dietary supplement intended to help children better balance their energy levels. It's primary component is their SuperStarch carb, designed to burn slower than other carbs, like sugar, common to race nutrition products. In 2009, Meb Keflezighi, the world-class marathoner for the US began using the product in his own training. A couple of Olympic appearances and a Boston Marathon win later, Meb swears by Generation UCan and calls it his "secret weapon" (not so secret anymore!).
The Claim
Generation UCan claims that their product keeps energy levels stable (no peaks and valleys). They also say that it burns fat for fuel, is gentle on the stomach, and optimizes recovery after workouts. Much of this is due to the fact that their product is built around their SuperStarch carb. That means they can leave out the added sugars that come in many other nutrition products. Less sugar means fewer calories. That means the body becomes conditioned to burn fat instead of carbs from simple sugars to get its energy.
The Test
I've tried multiple products for in-race nutrition in the past. All seem to produce the same results. They met their claims, but in the end, I felt that all were the same. An energy drink was an energy drink. I also used gels frequently on long rides. Most of my exercise these days comes from cycling. That makes race nutrition extremely important, because I can be out on the road for long periods of time and need something to replenish nutrients.
I tested Generation UCan three times. The first two times, I used their instructions to make a serving of UCan Fuel 20 minutes before long bike rides. Then I took my normal water bottles and a couple of energy gels. For the third test, I added UCan Hydrate to my water bottles and ditched the energy gels.
The Result
Generation UCan makes some huge claims. They don't disappoint. 
I didn't experience a crash during any of my three long rides in the summer heat. My energy levels were consistent throughout my bike ride. I seemed to stay hydrated longer, too. I used less hydration for the same amount of effort. The first time I used it, I thought it was a fluke. Then I got the same result when I used it again and again. It didn't matter if I went out in the heat of the day--my energy was steady, and I could go longer. In the third test, I was out for a bike ride longer than three hours, but the combination of the UCan Fuel and UCan Hydrate kept my energy high the whole time. What's more, I didn't have to use the energy gels I was used to. However, UCan does say you can create a gel from their product by simply mixing with less water. The consistency is not heavy, so it goes down easy. The flavor could be improved, but the results more than make up for any shortcomings in taste. 
Generation UCan has turned a skeptic into a total convert. I'm a sugar fanatic, so I LOVE energy gels. But the results I've experienced using Generation UCan has completely changed how I fuel my workouts. I strongly recommend this for anyone serious about getting better results out of their workouts or races.
Happy Running,
John Raveling