If you've been by the store lately, you've likely noticed quite a few changes. A new store layout. Lots of new shoes. A couple of new employees. 
All of these changes have been driven by a new owner. Clay Scarborough, the long-time owner who established Fleet Feet's presence in Decatur, retired in May. In Clay's place now is John Raveling. John is a Colorado native who comes to Decatur from Texas, where he served as a district manager for a chain of running specialty stores in fitness havens like Austin and Dallas. A lifelong runner, John has translated an early career as an elite amateur athlete pursuing lofty personal records into a deep passion for helping others do the same by sharing his vast knowledge and fitting people with the proper gear. 
By way of introduction, here's a quick Q&A with the new owner of Fleet Feet Decatur.
Fleet Feet Decatur (FFD): How did you get started running?
John: When I was a kid, my football coach told my parents that that just wasn't my sport. But he was the summer-league track coach and encouraged them to sign me up. That first year, I ran sprint relays, and we did pretty well. The next year, the big kids were all running a looped course we called "the gully." They did the full loop, and I wanted to be one of the big kids, so I worked hard and joined them. That started my transition to distance running. I made it to nationals my freshman year running the mile. My dad was a collegiate runner, so I would join him on workouts. There was a park near where we lived that was a half-mile around the perimeter. We would go over there and just run laps. We signed up for our first road race, and I got second in my age group. So we started doing those races about once a month and I got hooked. The longer the distance, the better I seemed to do. I always ran. It was something I was good at. I wasn't good at football, but I could run. Running was always my first love and still is.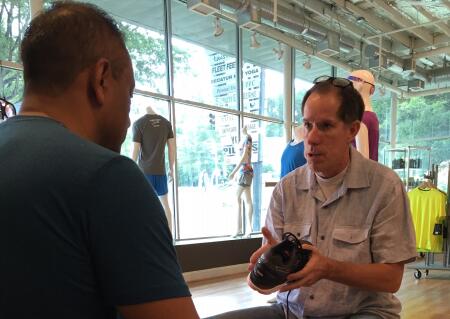 FFD: How long would you say you've been in the running business? 
John: I've been in the running retail business since the age of 14. My mom worked at a running store, so I started there as a summer job. I was sweeping floors, screen-printing t-shirts, anything that needed to be done around the shop. After a few weeks, I just kind of fell into helping customers, and I loved it. Due to child labor laws, they couldn't pay me on the books, so instead I got a free trip to Hawaii for a week to run the Honolulu marathon. That was my payment for working all summer.
FFD: That's quite a wage! Was that your first marathon?
John: No, I ran my first marathon at the age of 11. By the time I ran at Honolulu, it was probably my eighth or ninth.
FFD: How has your former running career impacted the way you help customers?
John: I truly enjoy that I've been able to make a career out of my passion. I don't run races much anymore, so by helping others, I get to live vicariously through them. Whether it's the first timer who's never run except for a lap in gym class or an elite athlete, it doesn't matter--I get the same thrill out of helping people meet their goals. 
FFD: Of all your career experiences, what would you consider the highlight?
John: When I was actively running, I won a couple of races, but I will always remember the first time I beat my dad. I'd always looked up to him, so beating him that first time was a big deal to me.
In the running business, it's the way the running community responds in tragedies. I was working at a store in Littleton, CO when the school shooting there occurred. To see how the running community responded really inspired me. Running didn't have much to do with the school generally. But after the tragedy happened, people came together to host races, events, and fundraisers to benefit the victims. The school athletic teams were locked out of the school for a while, so Mizuno came in and donated gear, shoes, and uniforms to the baseball and track teams so they could continue to compete. It originally seemed out of our wheel house, but the running community came together out of natural care to do what they could to help. The same thing happened in Boston. I was working there when the Boston marathon bombing happened. The way that runners there and all over the country came together immediately to help really inspired me.
FFD: What excites you about Decatur?
John: The greater Atlanta area is a running mecca. In my career, I've had opportunities to work at several running meccas--Colorado, Austin, Boston. They have a different kind of energy. I love the tight-knit quality of the Decatur area. People are engaged in the community and really care about their town. I'm excited about finding opportunities to connect our passionate smaller community of Decatur with the larger running community throughout Atlanta.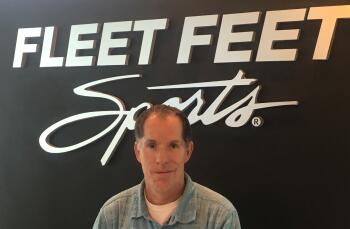 FFD: You mention "community" a lot. What does that mean to you?
John: It means a lot. Running can be a solitary activity if you just go out running solo. That's great, but on the flip side, in a community with others I can share my passion with others. This is my way of giving to others. It's how I connect with people that share my same enthusiasm for running and fitness. If it's solo all the time, there's no gratification that can come from that. It comes from sharing with people. It's my hope to grow the community around Fleet Feet and further connect what we do with the larger Decatur community around us.
FFD: What can people expect to be the same and what can they expect to be different now that Clay has retired and you are here?
John: Clay set a great foundation that I hope will serve as our launching pad to grow from. Clay began a track record of excellent customer service, and we are going to continue that legacy. Our biggest challenge will be taking what Clay began, and growing it both up and out. 
If you haven't been by the store lately, come by to meet John and see what's new in-store!