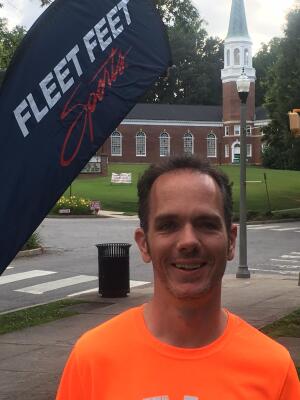 Doug Franks, a Decatur Local and friend of Fleet Feet Sports, recently completed an incredible journey that carried him countless miles over the past five years--running a 5K race in all 50 states. Doug recently returned from his final race in Hawaii, and we got the chance to talk with him about the impressive accomplishment.
Fleet Feet Decatur (FFD):What first inspired you to pursue the goal of completing 5K races in all 50 states?
Doug: It started back in 2010. In January, I set a New Year's resolution to run my first 5K. I ran that first race in March of that year. Then my wife and some friends decided to train for a half marathon in the fall. I decided to join them, so we trained and completed that race in October. Shortly after that, I visited the doctor and collapsed while at my appointment. I'd previously worked with a cardiologist, but this had never happened before in their office. After some testing, the doctor recommended that I not run distances further than 5K anymore. After running a half marathon, only doing a 5K didn't seem as exciting. Then I thought, "I could make this fun by doing one in all 50 states." It was my way of compensating for the limitation the doctor had put on me.
FFD: How long did it take you to complete them all?
Doug: I started with my first 5K in Orlando, FL around Thanksgiving of 2010, and just finished the last race in Hawaii in May. When I originally set the goal, I got out a calendar to plan it out. I knew I wanted to finish my last race when I turned 40. The race in Hawaii was just two days before my birthday.
FFD: Do you have a favorite of all the races you completed?
Doug: There were so many over so much time that it can be tough to choose. But the Lincoln Tunnel Challenge in New Jersey was really unique. We ran through the Lincoln Tunnel that connects New Jersey into Manhattan, New York. The course is an out-and-back, so you run under the Hudson River from one end of the tunnel to the other, then turn around and come back. Before the start of the race, they brought out a drum and bagpipe corps to lead us to the start of the tunnel for the race. When the gun went off, we started into the tunnel. Someone at the very front let out a loud, almost primal, yell. The sound rippled back through the crowd, and everyone behind joined in. The yells bounced off the walls of the tunnel and made an incredible noise. The hairs on the back of your neck stood up. It was an amazing feeling.
FFD: How did that feel crossing the finish line at the last race in Hawaii?
Doug: I was relieved, actually. I had some knee pain during the race, so I was glad to reach the end without having to pull up early. But emotions were high before the start of the race. They played the national anthem and I had a chance to reflect on the journey. That was a really emotional moment.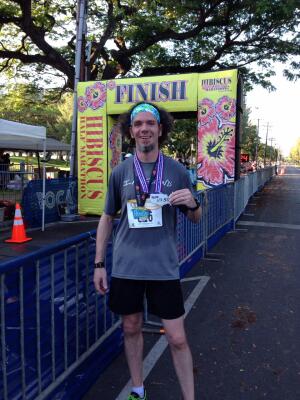 FFD: What advice would you have for someone who wants to run their first 5K?
Doug: If you're going to run an organized 5K race, just remember that you are racing yourself. There may be other people on the course with you, but don't get caught up in who is beating who. Just think about doing the best you can to improve for yourself. During my 50-race stretch, I got new personal best finishes seven times, and my second-to-last race was my best 5K time ever. So use that desire to improve yourself as fuel to stick with it. Having running groups and a great community means a lot, too.
FFD: Were you active with running groups through Fleet Feet or elsewhere during your training?
Doug: Yeah, the support a running group or community provides is a big help to keep you motivated. I bought my first running shoes at Fleet Feet and joined [former owner] Clay Scarborough on a fun run. Running with the group didn't stick right away, but I came back to it a few months later and have been here for practically every Wednesday group run since. The Wednesday group is really close, so it's like church for me--I'm not going to miss it. I like to catch some Saturdays, too, when I can. 
FFD: What's next for you?
Doug: I don't know. A lot of people have asked that, but I'm not sure. I plan to run a race every month for as long as I can. The habit has stuck after more than six years. Having a race every month helps to keep me motivated to train and stay active running.
You can catch Doug at Wednesday evening group runs that leave from the Fleet Feet Decatur store on Ponce. Join the group and say, "Congrats!"