Winter is here! Living in the South, we aren't always sure what to do with Winter. Sometimes the weather is mild, and we can comfortably wear light weight clothing. Other times, the temperature takes a dive. It's in these moments when it's important to be prepared so that a little chill doesn't spoil a great run. Here's a short list of tips for keeping your outdoor runs enjoyable in the cold season.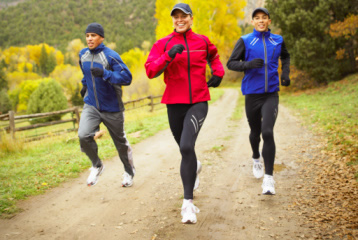 1. Layers! The weather may be chilly, but your body's temperature and your overall comfort level are going to change during your run--cool while stretching, comfortable as you start to warm up, warm as you build up a sweat. Wearing multiple layers gives you flexibility to adapt to fit your comfort level as you go. Layers also help to insulate you by trapping air between the layers which your body warms.
2. Wicking Materials a Must. Managing moisture is crucial when temperatures drop. When cool air hits exposed moisture, the effect is multiplied. Moisture-wicking materials pull the moisture away from your body. This helps to keep you drier, which in turn will help to keep you warmer.
3. Hats and Gloves Save the Day. Scientists have debunked the myth that most heat loss occurs through the head. That doesn't mean we can ignore the benefit of covering our head and hands. Most sweating occurs on our heads, and as we mentioned above, managing moisture is a key component of staying comfortable in the cold. Additionally, our hands are extremities that our bodies will allow to cool in an effort to keep our core warm. So wear some gloves to keep them warm. Fleet Feet Decatur has several options.
4. Shorten Your Stride. Especially when encountering potentially slick conditions while you're out, shortening your stride will help to keep your feet under you and your weight balanced over top of them. Also, be cautious when taking corners for similar reasons. This reduces the risk you'll take a spill.
5. Plan Routes with Loops. Doing routes with loops means that you can stay closer to your home or car, where you can have additional support available. You can run without having to take as much with you initially, plus you have the flexibility to lengthen or shorten your run based on the sometimes changing conditions.
6. Reflective Gear for Low Light. Winter brings the shortest amount of daylight of any point during the year. Most morning and evening runs will feature some portion of low light conditions. Be ready for it by wearing reflective gear and taking lights. Ideally, reflective gear will offer 360-degree visibility and be visible from up to 1,200 ft. away. Lights come in many varieties, but the general rule is the more lumens the better! Fleet Feet Decatur has many options of both available.
7. Ensure Others Know Your Plans. Stay safe by ensuring that at least one other person knows the route that you plan to run and your estimate for when you will return.
8. Carry ID, cellphone, and Some Cash. If you run into major issues, you want to ensure that you have the means to get help. This is good advice at any time of the year, but especially so during the winter season!
Stay safe, stay warm, and happy running!