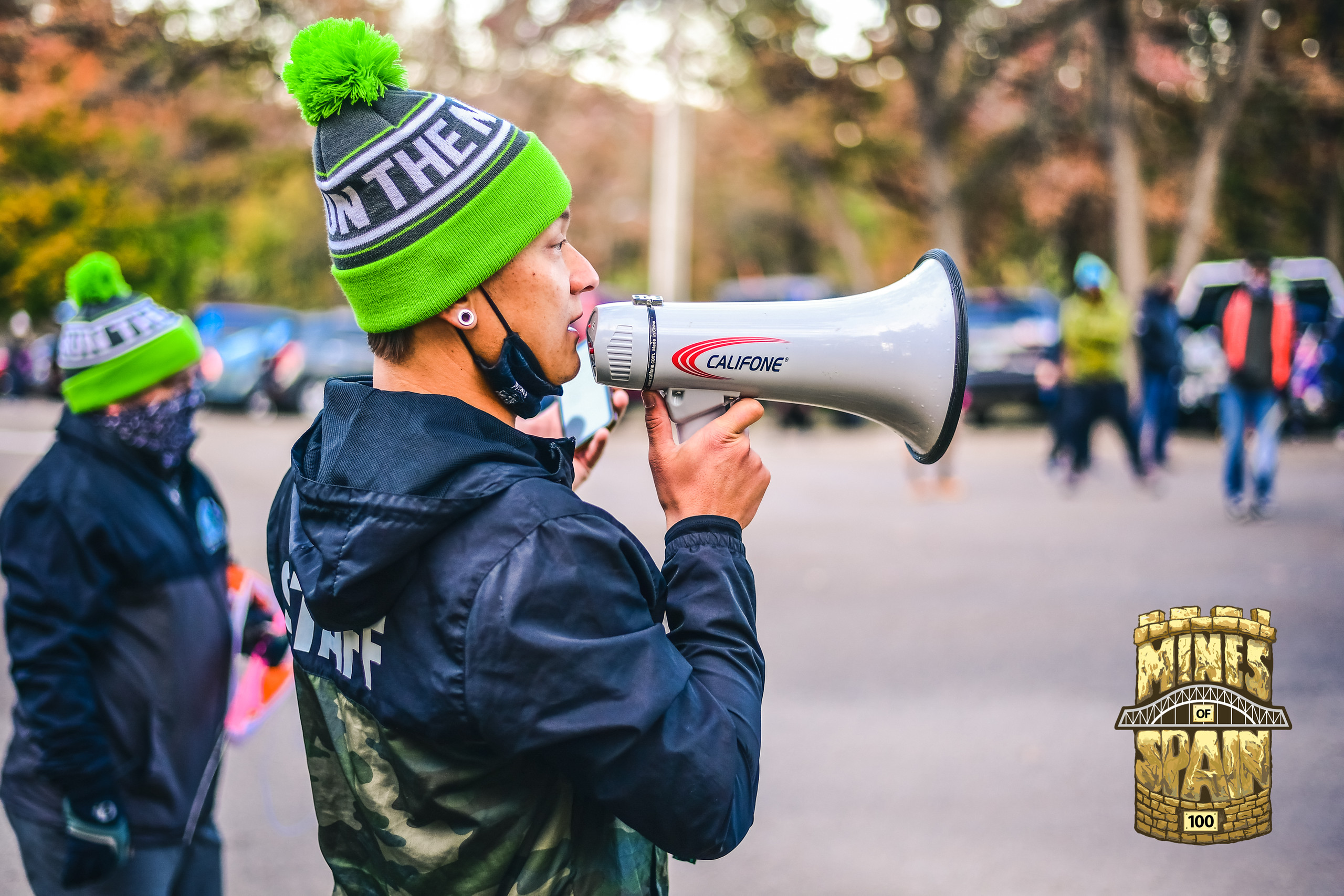 Josh Sun, race director, Mines of Spain 100, October 2020
Josh Sun - in his spare time, mind you - manages a few local races. It all started innocently enough, during a conversation on - where else? - a trail.
Josh was running at Swiss Valley Nature Preserve outside Dubuque one icy winter day with his friend Rob Williams, and while they ran, they talked about putting on a race. "A low cost, high value trail race by trail runners. Environmentally sustainable and as close to zero waste as possible," Sun adds. Soon, Josh found himself along with Rob, Will Hoyer and Danielle Stowell at the helm of a sustainable, close-to-zero waste race - in the Mines of Spain. And the rest, as they say, is history.
Today, several of his races, including Mines of Spain 100, Sunderbruch B&B Trail Races and Schuetzen NEIN, are part of the No Coast Trail Series, a collection of trail races in Iowa. He's also involved with the Quad Cities Trail & Ultra Runners group, more commonly known as the QC-TUR(d)s on Facebook. And he still finds time to run a few races a year.
This past year, things looked a little different. However, plans abound for 2021, and we talked to Josh about how things are going.
You live in the Quad Cities, but many of your races take place up by Dubuque. What's your connection to both areas?
"I was born and raised in Dubuque, but I've been in the QC for close to 14 years and think of it as home. I was not a runner when I lived in Dubuque but I had a couple of good friends who were and were getting into the trail and ultra scene when I got into running. So after moving to the QC, I ended up running regularly at Mines of Spain with them when I was back in town.
"One of those good friends had just moved out to Colorado and fortuitously enough, a guy I had recently met from the Cedar Falls running community had just moved to Dubuque. We began running trails together and eventually the conversation turned to hosting a low key grassroots event at the Mines of Spain."
The Mines of Spain Trail Races hosted 132 runners in its inaugural year in 2013 and now caps out with 300 runners combined for the half marathon, 7 mile and 4 mile races when registration opens each year in early March.
Sun also started the Sunderbruch B&B Trail Races (5K/10K) in 2014, the Schuetzen NEIN! Hour Endurance Run in 2015, and the 100-mile/100K at the Mines of Spain in 2018.
"Ideas take form and they materialize. The organic nature of everything I do is kind of a point of pride – especially with the 100-miler – because without inheriting an existing event, I (with the help of many others) grew it from just an idea to what it is today."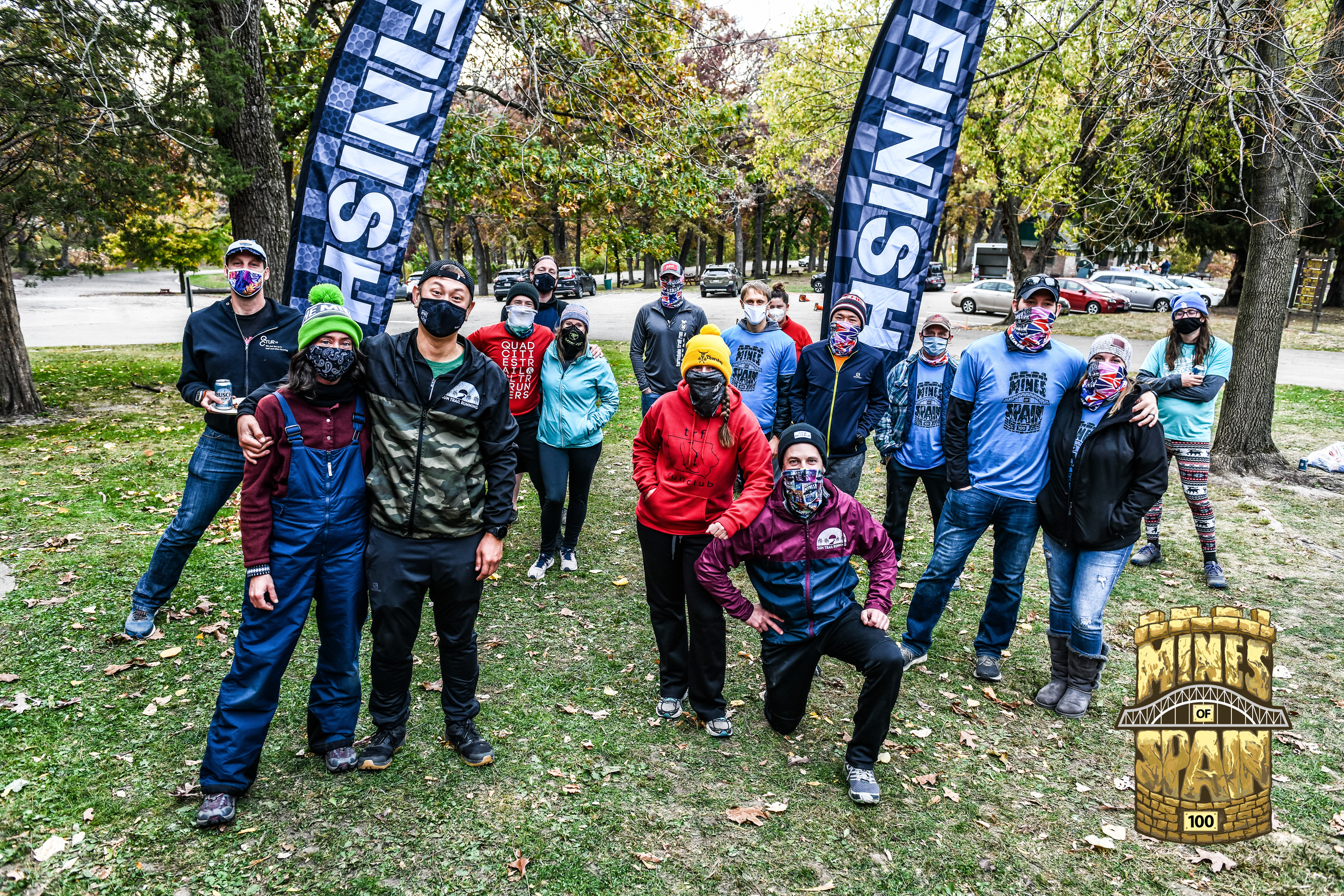 Mines of Spain 100 volunteers at the start/finish from the end of the race last year at about 5 p.m. or so on Saturday after the race had just officially ended.
From left to right, regardless of row: Dan Maddog Dillon, Michele Thompson, Me, Andy Brown, Michael Crane, Julie Churchill, Adam Roll, Emily Eisenman, Eric Prilipp, Danielle Stowell, Jason Willits, Tsukasa Ogihara, Bryan Powers, Matt Lommen, Jade Lommen, Michael Van Hulle. "Many of them were key race staff captaining aid stations or leading volunteer efforts for 30+ hours. Tsukasa had even ran his first 100k, finished 4th and then volunteered for 15-20 hours after. Just an incredible group of people."
How did it go this past year, and what kind of changes did you have to make?
"For the races that were able to take place, there were a lot of changes. Thankfully since race directing is not my full time job and livelihood, I was able to put 100% of the focus on my runners' safety and what experience we were able to provide. It was clear last year that whether or not a race was making money on the event made a big difference in how things were handled.
"I actually had a new race scheduled that was planned to take place mid-April out at Loud Thunder Forest Preserve so that of course ended up being cancelled. The race was sold out so I gave all runners a number of options for their race registration. I had already spent some money on the race of course, but in the end, it's about the runners.
"In May – Sunderbruch B&B was cancelled as well. After that, there was the race in June at Schuetzen. It's a very small participant field held on private property and we took all the precautions we knew to take at the time. The goal with each passing day was to try to find reasonable and logical balance through it all.
"Personally, I think running and outdoor recreation has always been such a low risk for exposure. Yes, Covid's real and very dangerous but a trail race of 50 people in the woods is not the same as an indoor concert with thousands of people. Driving that balance of mindful practice of health precautions, limiting numbers and creating space between runners at any opportunity was and is very important for me in all of this. Risk is risk, of course, so with any events that did take place, we made a very strong point of allowing deferrals and flexing any existing registration policy to best take care of everyone. Just because a race was happening, we didn't want someone to feel penalized in any way for choosing to not participate.
"The information coming out from cities, counties, and the state seemed to change on a weekly basis so there was certainly a reliance on best judgment and doing the best we could with what information we had at that precise moment in time. Looking back, of course there are things we could have done differently, but I feel very happy with how we responded and how everything went. There was no standard operating procedure for many months so safety and prevention of spread guided every decision made.
"With all races, you hope for the best, plan that everything can change any minute, and at the end of the day, take care of the runners."
Josh hands Nataly Stenzel of Wisconsin her belt buckle for the 100 miler at Mines of Spain 100, October 2020.
So far, Mines and many other trail races are on for 2021. What would you say to someone considering running the Mines of Spain 100?
"Anyone can run 100 miles, it just hurts less and less the more you prepare," Sun says. "The trails there are challenging, compared to some other places. And trail running as a whole is different, if you're used to road races. Your times on the trail for the same distance on the roads will generally be much slower and that's okay.
"The Mines of Spain is a really cool area and participating in any of our races there is also a great way to support the nonprofit group, the Friends of the Mines of Spain, that help oversee education, programs and projects at the park. I think we've raised around $15,000 for the Friends over the past eight years."
Your race websites are extremely detailed - it seems like you put a lot of thought and effort into making sure people know exactly what is planned and how to prepare for the race day.
"That's one of the things I care a lot about. Making sure that everyone has the information they need while spending as little time as possible looking for it. As both a participant and organizer, I hate it when there's little to no attention to detail with an event. Information being clearly set and published online allows me to keep direct communication as thorough and minimal as possible."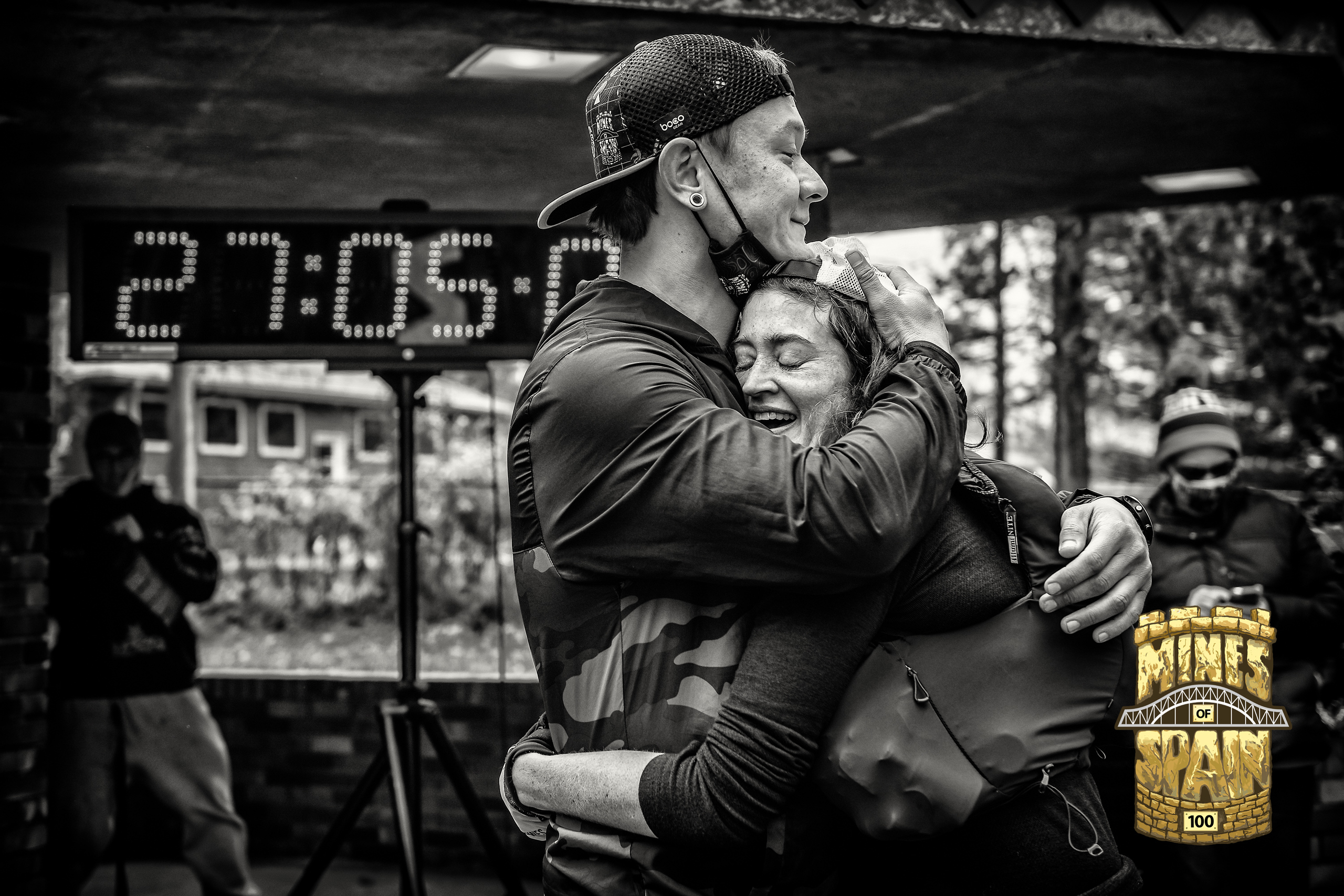 Josh and girlfriend Michele Thompson after she finished her first 100 miler, October 2020.
What's the best part of being there for these longer races and seeing people finish this incredible challenge?
"For Mines - it's both good and bad. You see the happy stories play out and that's certainly the best part without question. The flip side to that as the race director, though, is seeing people not have the day they wanted and choosing to head home with a DNF. I see their fatigued minds trying to rationalize it to me, and I'm like, it's fine, you don't have to explain it. Of course I try to talk them out of it but unfortunately they don't usually come to me until their mind has been firmly made up.
"I know the feeling of not finishing a race, and it sucks, but at the end of the day it's just running and I like to remind folks of that when they come to me in the middle of the night, feeling in the dumps, telling me they're done. Go get some sleep, wake up tomorrow and realize you probably should've kept going. The fire that gets lit from those experiences is real, and getting to see that person come back the next year and being able to hand them that belt buckle? That's incredibly humbling and inspiring."
It seems like the running community here has expanded even in the past few years. Do you see that increase in interest with your races?
"The growth in the local running community and especially trail running is definitely evident throughout the week to week and month to month but can also be seen in the amazing support for each of my races year after year. And then when a new event like Loud Thunder 50 comes along, the interest level is already so high which is really encouraging and supportive.
"The Eastern Iowa trail community as a whole has grown a lot as well. I do think it's very easy to take for granted what we have here along the Mississippi whereas so much of the rest of Iowa and the Midwest don't have the type of topography that's more conducive to trail running. Having the Mississippi as a backdrop for so much is beautiful."
You manage quite a few races, plus working - do you still get out to run? What races do you do each year?
"I still race a decent amount. Generally, I try to get two longer goal races in a year but it just depends. 2019, I did a 100 in September, and one in November. Then there's plenty of shorter races I like doing. Usually I run maybe 10-12 races in a normal year, half of those ultras. Red Shamrock in Iowa City, it's a 6k, that's a race I like to do every year. Also the Bix (QC holiday!) plus the Quad-Cities Marathon I try to never miss. I usually lead a pace group for the half marathon at QCM, that's a lot of fun. Relay Iowa from Sioux City to Dubuque is another fantastic event I do every year.
"It's funny, because pre-Covid, I could tell you what I had scheduled for about 42 weekends of the next year but now like most folks, I can only really plan at best a few months out at a time. I still try to run as much as I can and support strong events, both locally and regionally. Longer races are a great reason to travel and to plan a race-cation around whether racing myself or supporting others. I don't usually repeat a ton of the destination ultras though in favor of checking out new events from year to year."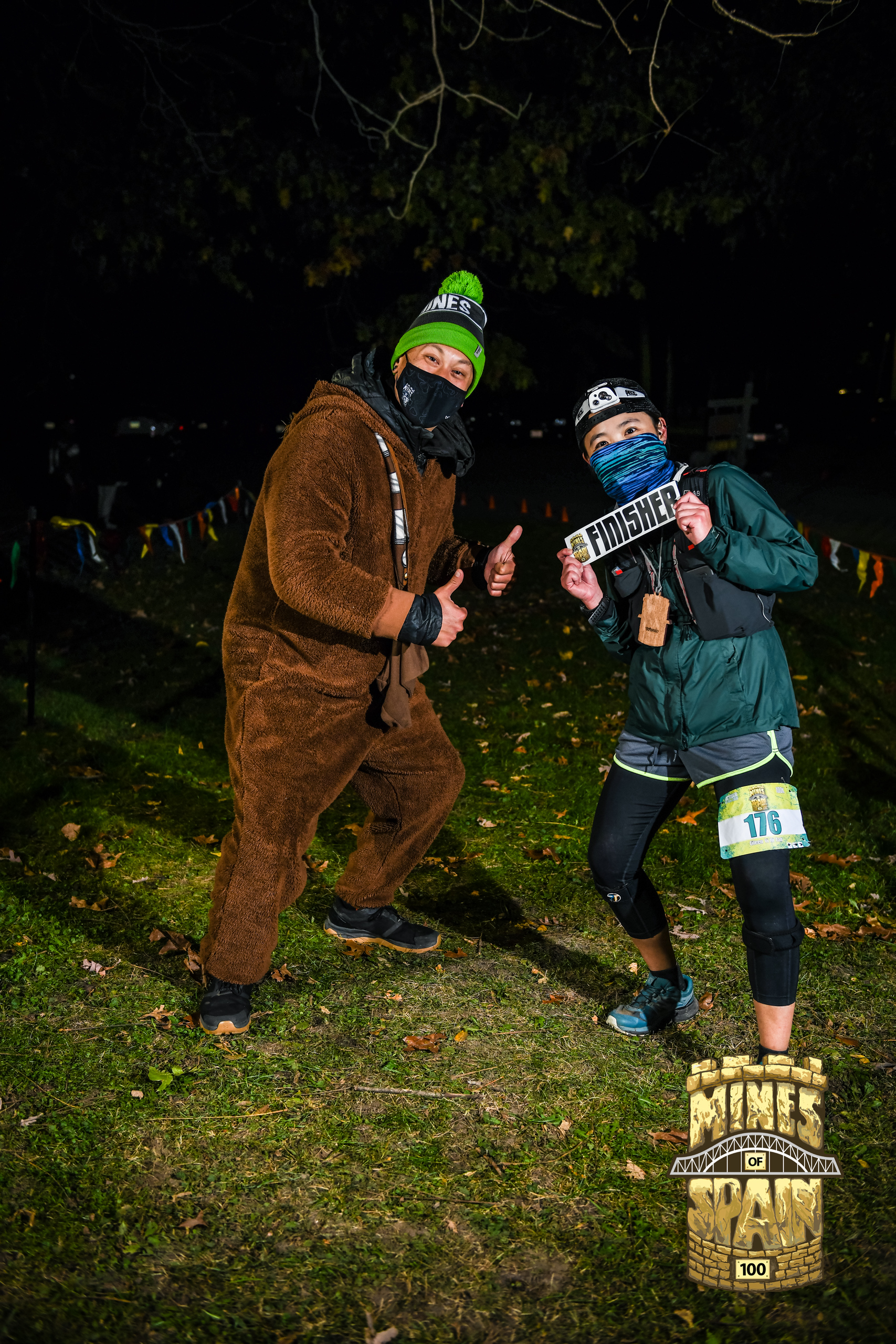 Josh Sun and Eileen Tan after her first 100 miler, Mines of Spain 100, both members of QCTur(d)s.
If someone wants to get into ultra running, how would you recommend they start?
"The easiest exposure is through a group like QC-TUR - we do weekly group runs. That's where I meet a lot of people. There are many TUR(d)s in the group that are very steeped in the running culture and they can be a great resource. The number one way to get into ultrarunning is simply to run a bunch and look for people to run with that are interested in doing the same kind of dumb things. There's no better way to learn and to grow, and to see that that stuff is normal. It's that community. It's a very organic process of becoming a runner or becoming a trail runner. You learn constantly and your perspective will likely constantly change.
"Find people who push you, and teach you. Learn about races, and gear and training, because not one thing works for everyone. Hear it all, try stuff, and see what works for you.
"I train year-round, but it's like, I wouldn't do a lot of what I do if I was running by myself every day. I have no problem running out in the bitter cold over the winter but having that option of, every Monday and Saturday, going to the group runs and having somebody to run with helps a lot with getting out the door. Whatever the weather, when you have someone running with you, it makes a huge difference."
Final mile
Shoes: Generally, Salomon is my favorite brand especially for trails. Salomon, Nike and Altra for the roads.
Best time of day to run: I'm an evening runner, definitely, I would say the hour before sunset.
Favorite QC place to run: Around Vander Veer, if I'm running on roads, and I'm going to say Wildcat Den for trails.
Best post-run beer: Anything hazy by Wake Brewing.
What's a good reason to run today? The simple fact is, Bix bodies are built in the winter.