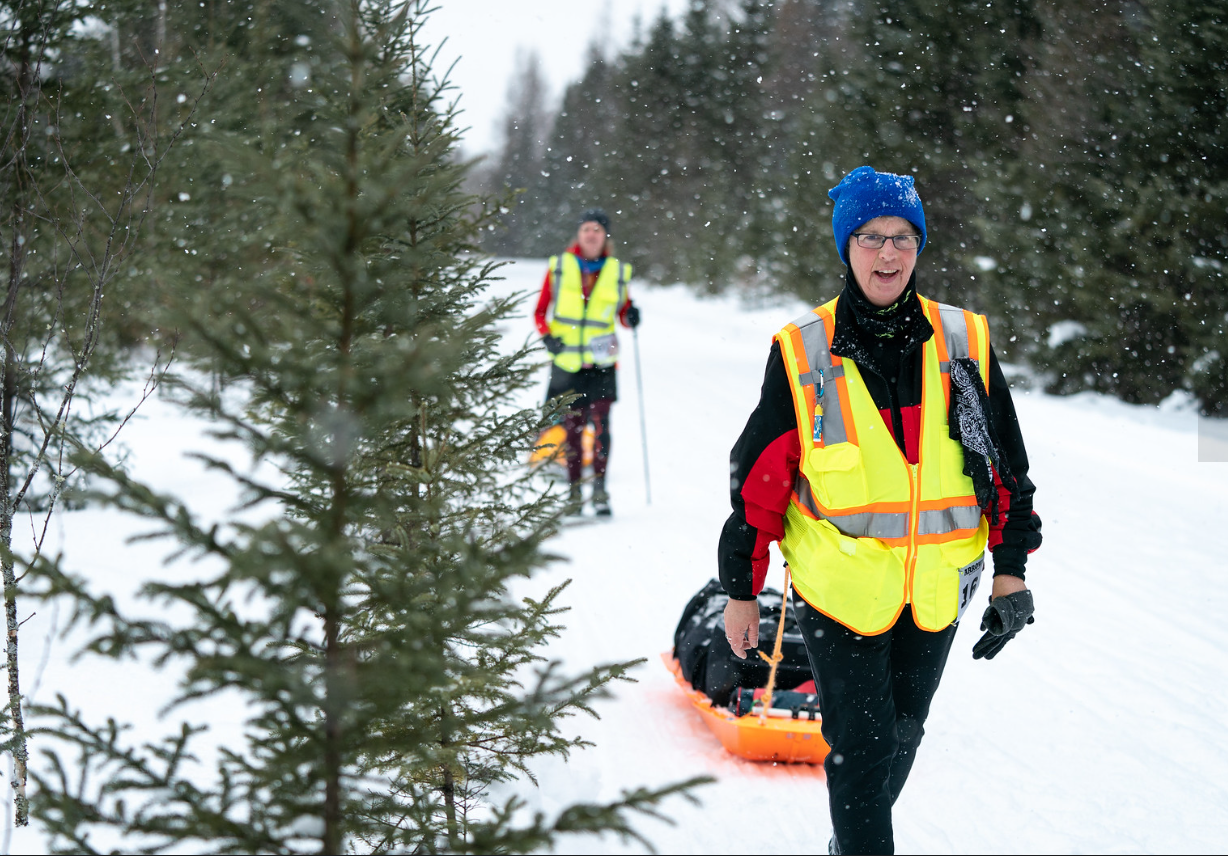 Arrowhead 135: On the trail.
When you think of running, does it cross your mind to just… keep going? How long could you keep running? How far? What if you had, say, a few well-meaning supporters cheering you on? Could you, perhaps, run for 24 hours? 50 miles? 100 miles?
Bonnie Busch found that she could run that long, and that far, by accident. In 1986, she had been running for four years, doing 5Ks and 10Ks, and the local Bix 7, based on a co-worker's challenge. After a few of those, she decided she was up for a new challenge - a marathon. In the 1980s, races were listed primarily in magazines. If you wanted to find a race, you had to call someone up, get the information, mail in forms - none of this online get-me-into-every-race business. Busch had signed up for the 1987 Chicago marathon, and she began training.
How it started
The Chicago marathon, which was established in 1977, was typically held in September, and in the early days was plagued by sponsorship issues, and the tendency to be scheduled on the same day as a home Bears game. In 1987, the sole sponsor pulled support for the race, effectively cancelling the event, despite efforts to get a substitute race going for that fall or the following spring.
In the meantime, Busch had been training for more than a year, including running through the winter for the first time ever, hoping for a revived Chicago marathon to be scheduled. "I ran through the winter, and it was canceled again. The Internet wasn't what it was now, and it was hard to find things. So, I ended up calling the Cornbelt Running Club," she says. "Nancy Kapheim called me back, and I said I was looking for a marathon. I wanted to keep it low budget, and not too far away. She said she had a list, which showed there was a Des Moines marathon in April. And, she said, 'we do a little race here' and she told me about the 24-hour run. I did go to Des Moines, but my time wasn't what I wanted."
Busch called Kapheim back, and asked about the 24-hour run. "She said, 'just come over and do your marathon here'. So, I went and all these people were circling the track, and doing manual lap counting. I thought, oh, this is kind of friendly, so I started, and I told my lap counter, I wanted to know when I hit a marathon, and I wasn't that fast. About the time I was going to wrap it up, the person I was talking to said, well, if you keep on going, you'll have a 50k. And I said, oh, what's that? So I decided to stay. Then when I finished the 50k, I was talking to someone else, and they said you know, you're pretty close to 50 miles. I got to watch people finish 50 miles, and I'd never seen that before. I don't remember if I ever left all day. I think I did 100K."
And that, for Busch, was the moment she became an ultra runner. "I was hooked. I got to spend all day with these people I never met before, they were nice, they gave me advice. In fact, one guy handed me a copy of UltraRunning magazine."
It was a completely different experience than she'd had running other distances. "A 5K you run differently from a half marathon, and that's even different from a marathon. This was a completely different attitude, and I was totally taken in by it. I just had to do it again."
From 1988 to 1991, though, it was as if the universe wanted her to prove how much she wanted it. In the meantime, there was training, and research, and some tough runs. "Six months later, I went up to Wisconsin and did the Badgerland 24-hour, and I had a preconceived idea. And I got really surprised. So, I was crushed, and so disappointed. So, I decided I'd go back to Eldridge again. Instead of getting better, I got worse. So, it took awhile. I had injuries."
"I ran into people at the 24-hour runs, and I'd read these magazines. I got off the track and did some trail stuff, and nobody was running trails around here at the time. But then you meet some people who challenge your thinking, and introduce you to a new idea. It wasn't until 1991 that I finally ran 100 miles at the 24-hour run, and that was what I'd been trying to do since I started."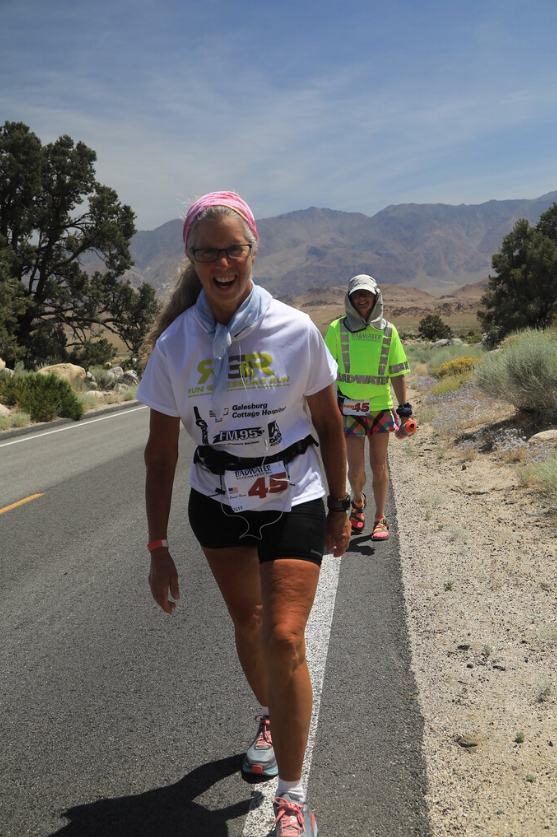 2019 Badwater 135: Final climb with pacer, Bonnie and Shawn Severson.
How it's going
From there, she took on a series of races, including the Olander Park 24 Hour run, the Kettle Moraine 100 and the Ice Age Trail 50-mile. Then a few more - including a little race called the Boston Marathon. And the Fairfield Trail Run 50-mile. Chicago Lakefront Trail 50-mile. McNaughton 50-mile. The Quad-Cities Marathon. San Diego One Day 24-hour run. North Coast 24-hour. Wildcat 50K. Hawkeye 50K. 2007 brought the Badwater 135. In 2010, she came in first at the Peanut Island 24-hour run with 168K and change.
In 2013, she was the first female in the Tuscobia Winter 75-mile. She won the Potawatomi in 2016 (and got the 1,000-mile belt buckle). She kept adding races. The Afton Trail 50K. The Booneville Backroads Ultra. The Hennepin Hundred 50-mile. Basically, mention her name, and the word "legend" tends to follow.
All the while, she kept doing the Cornbelt 24-hour run each year, coming in first more than a few times, even while volunteering for the event. "I'm mostly involved a little closer to the action with the 24-hour run with the Cornbelt Running Club. We've got a strong team of people who step up on race day. So, it's easy to say, I'll meet up with you the night before. And I can walk away, and go spend my time on the track. I try to volunteer at races, when I can, and however I can."
What is getting you through the miles when you're in a challenging race?
"I'm not sure I know the answer to that. You've run a hard 5K, you feel like crap. So, you think - if a 5K feels like that, then a half is going to be 3 times as bad. But it isn't - you approach it differently. I find there's different things that motivate you for different reasons."
"A friend of mine and I did a virtual Hennepin Hundred race this year. It's great, because it's beautiful, it's quiet, and there's no one around. The bad part is, it's quiet, and there's no one around. That race day, we didn't pick the best weather. We picked the original day of the race. And it was raining, and kind of windy.
"When we did the virtual race, we staged ourselves at Lock 24 by Geneseo. We wanted the ability to go either direction - we planned to do the long haul into Colona first, and then come back. Going east, you can see a long way, and you know how far you have yet to go. That night when it rained, I didn't look at the water so I wouldn't think about how it was raining."
It's about preparation, both physical and mental, and thinking through what the race experience might look like and how to approach each one individually, and being aware of what could happen, she says. For instance, one ultra that Busch has done a few times is the Arrowhead 135 Winter Ultra in International Falls, Minn., recognized as one of the 50 toughest races in the world, with temps dropping into the -40s.
"People in Iowa don't have the experience of -40 degrees. You learn things at that temperature, that you can't learn by reading. I'm convinced that people do better in bad weather. Because the weather, when it's bad, it demands you pay attention to it, and prepare for it. When we're running in good weather, we ignore it, and we start to chafe."
What's the best part about running?
"The fact that you can spend four hours with someone you're randomly put together with, that's shocking that we can have a conversation and get to know someone in a very intimate way. Granted, it's a small picture of their life, but it's what's important at that moment. Everybody's got a story, and that's an interesting way to get it. And it's the story they want to tell you in that moment. A lot of us turn off the judgmental side of it. It's not their whole life, and we know that. We just take it in the moment."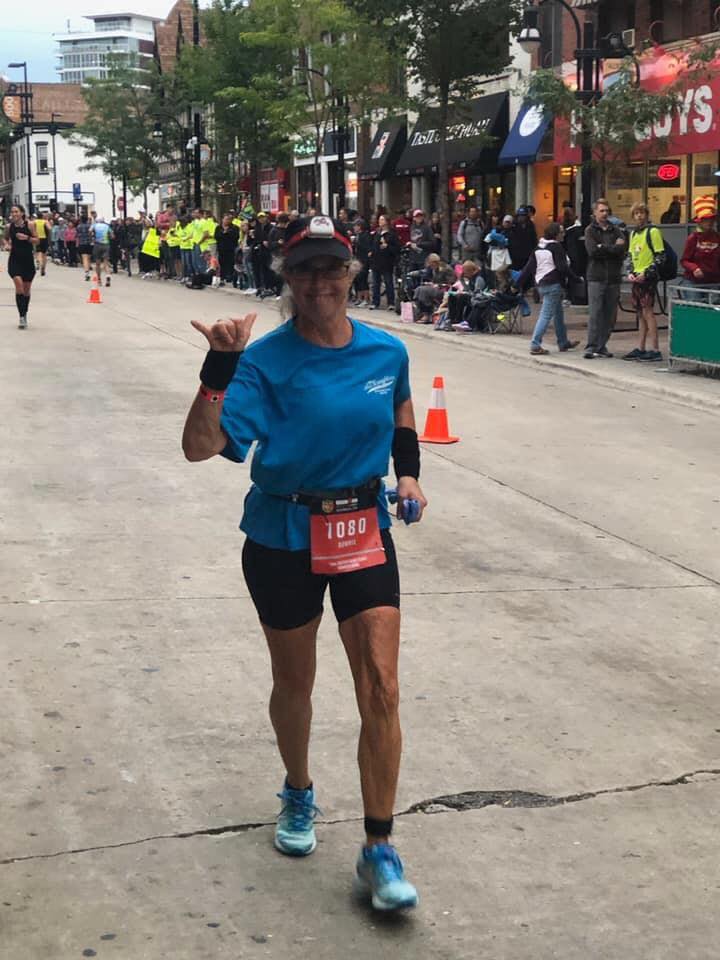 2019 Ironman Wisconsin, on the run.
How did 2020 impact your running?
"Everybody's 2021 is already scheduled. It's just, that's the way it is. I've got some friends who do full time race directing, but some have gotten very creative with how they handled stuff, and it was positive." Virtual races included the Race Across Tennessee, a few Ornery Mule races, the virtual Bix 7, and Covid 19K. "I just thought, it'll be something to focus on."
However, Busch was surprised at how it changed her approach, she said. "Running a virtual race impacts how you think of time you're going to get, vs. just going for a run. It changes the way you look at it. I thought I would be the last person on earth who would do something like that, but I did care."
Thanks to a few long virtual races, Busch has been getting in fairly high mileage weeks, she says. "I had a 100K in ten days, so I was actually doing some pretty high mileage at the time. I would take the fastest 10K from that, and apply it to a race. Because of the races I'm doing right now, it's kind of hard to tell. It's a multi-sport. I feel guilty if I can't put down 10 miles a day."
What's something to remember when setting goals?
"You may not achieve what you set out to do. But, that doesn't mean you can't enjoy it. I think that's true for any of the distances. I had a friend who was chasing a Boston qualifying time for so long, and has never gotten it, but she had a good time, and they traveled all over for races."
Final Mile
Shoes you're using these days: "

A pile of them - I have three pairs in rotation. Sauconys, Asics and probably a Hokas in there somewhere. I have a favorite pair of shoes I bought years ago. They were being discontinued, so I bought every pair I could. So late this fall, I pulled out my last pair. I typically try to have two different pairs in rotation."
Best time of day to run:

"I'm a morning runner. I want to get out, I set my alarm clock at the same time, 5 a.m., every day, and I like to get out. I'm better off just getting it done. When I get back, we usually go for a walk."
What's a good reason to run today? "

You know, I think Covid has been interesting on how people find their way through the day, and I can't imagine the day without going outside. I'll find an excuse to go outside and go for a walk. For me, it's a way to clear my head and forget about stuff. Take a break, give yourself a little bit of time. Get some fresh air, and watch things change, whether it's the seasons or the birds or the weather."