Happy Valentine's Day!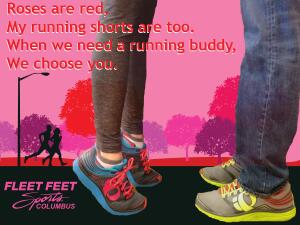 We love what we do because of you! Over the year's we have been blessed to such an amazing community! We strive everyday to be a store for the community, not just another store in your community.
In 2013 we donated over $12,000 to local schools and another $10,000 to local charities.
In 2014, will hope to double those donations, beginning with our goal to raise $15,000 for Girls on the Run at next week's Transcend the Run Fashion Show and Gala! We hope to see you there!
As a small thank you for all of your support we would like to give away a year of FREE shoes to two lucky Valentine's! All you have to do to enter is fill out the form below!The two lucky Valentines will be selected and notified Saturday, February 15th at 12pm!
See you on the trails soon!
Happy Valentine's Day from the staff at Fleet Feet!