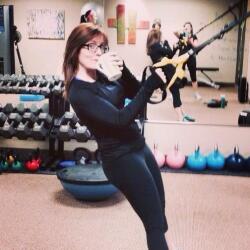 Need a tune-up? Fix the core of your running and walking troubles! 
Sunday Core with Marie will strengthen and tone your core while making you more efficient, help you avoid injury and give you the beach body you've been wanting. Join us each Sunday at Fleet Feet Sports. Bring a mat or towel for the 45 minutes of butt kicking, ab blasting, shoulder frying work.
Workouts start promptly at 10:00 am.
$5 at the door. FREE for current MIT participants! Please RSVP!
Marie is a NASM Certified Personal Trainer specializing in core training. Marie has been a Les Mills Body Pump instructor since 2006 and is also a certified Body Combat and Body Jam instructor. Check out her company, 614Fitness!