Beginner 5K Training 
We've moved the latest and greatest info for No Boundaries To TrainWithFleetFeet.com
What you get:
Two structured weekly workouts on Wednesday evening and Saturday morning. Locations and times vary.

Training duration varies depending on the season.


One No Boundaries Training shirt after completing 8 group workouts.

One No Boundaries Jacket after completing the program and the goal race.
NO BOUNDARIES® is for beginner walkers and runners looking to change their life through fitness. This is a beginners program that offers intermediate drills for runners and walkers alike.

Join us as you make the step to change your life. Let us help you learn the benefits of an active lifestyle. Along the way we will help with flexibility, endurance and proper nutrition.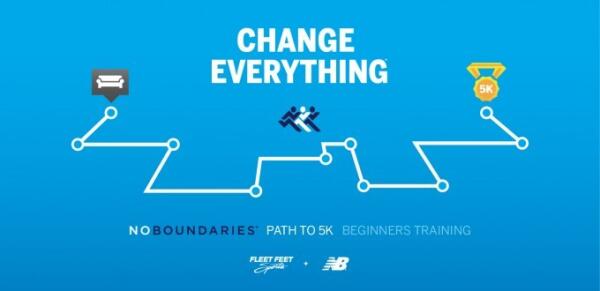 We offer several 10-14 week sessions throughout the year as we train for the following events
Check out what our past participants are saying:
"I for one am getting pumped, and my friends are being supportive too. I just wanted to thank you for all your help, support and encouragement. You guys are fantastic coaches and huge factors in our group's success. Hard to believe that 10 weeks ago I couldn't get around a track once without walking and now I can run 12+ times around without walking. NOBO Rocks!"
      - Chip
Stop in the store for more details, or check out the video below!