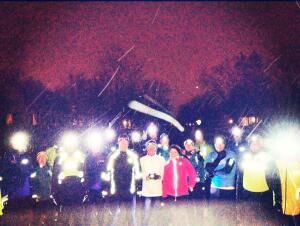 Wednesdays are a great opportunity to meet with others in your group to log your assigned mileage for the day. Pace coaches are not provided on Wednesdays. You have the option of heading out for a "casual" workout aimed at simply logging your mileage for the day. Coach Randy & Co. will lead this group. Your other option is to join Jeff for the Interval workouts. It will be dark during the workout.It is mandatory that your wear a headlamp and safety lights for both your front AND back!   
If you are looking to build on previous success in your half or full marathon training you may also choose to join Jeff Henderson for weekly tempo and marathon paced workouts. These workouts will focus on building your endurance and increasing your ability to run or walk faster for longer. Each week Jeff will provide your with a specific workout and pacing recommendations for the group. Jeff will also provide hydration for this group.
***For those who are following the experienced and advanced schedules and who are doing Wednesday speed workouts please take note of the following.***
Your schedule includes a determined mileage for each day. On Wednesday your mileage includes a warm-up, the workout and a cool-down. There will be occasions where your schedule calls for more or less mileage than will be included in the Wednesday workout. In these cases you have a couple of options: 
Complete the mileage as prescribed for the Wednesday workout without regard to differences with your weekly schedule. This option is fine as long as it doesn't throw your weekly total off by more than 5%.

In the event that your weekly schedule calls for more mileage on Wednesday than i

s prescribed for the workout you may wish to do the additional mileage in a longer warm-up or cool-down are do a second workout on Wednesday morning before coming to the workout. You may also choose to add mileage to your Thursday or Friday workout. 

In the event that your weekly schedule calls for less mileage on Wednesday than is prescribed for the workout you may wish to do less mileage on days following the workout, but do NOT neglect the warm-up or cool-down.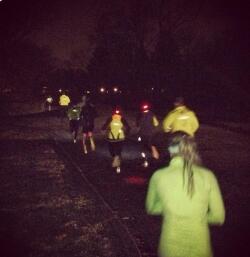 The workout this week with Jeff is as follows. We will start at Thomas Worthington High School at 6:30pm and do our 1 mile warm-up as we head to Riverlea.
EVERYONE - 1 mile warm-up; 5x1 mile at tempo pace; head back to the school for a 1 mile cool-down..