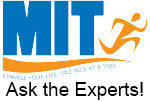 There is a wealth of knowledge on the MIT Education page, but often times we know you may have a specific question you can't find the answer to. That's where Ask the Experts comes in! Head MIT Coach Jeff Henderson, Dr. Darrin Bright and Dr. Steve Devor are teaming up to provide you with the answers you need!
If you have a question you need answered, all you need to do is e-mail MIT@PremierRaces.com with "FAQ" in the subject line, and send us your question!
After receiving your questions we will post responses here under the FAQ section below, or we may direct you to an article that is already out there waiting for you!
Happy Running & Walking!
Jeff, Darrin & Steve
FAQ
How do I get started with heart rate training/monitoring? Check out Dr. Devor's answer here!
I am training for my 3rd full marathon and in addition to running, I like to strength/cross train 1-2x per week. What is the ideal way to incorporate my strength training? Cut a run or 2 out of my training week? Try and get all my miles (add a couple miles onto other runs?) in AND strength train? What to do.... Thanks for any suggestions/advice!! Check out Jeff's response here!

I suffered my first - and hopefully last - bout of gout in April while walking.  It felt like the joint of my left big toe had imploded.   Since then the pain has greatly diminished but I still get some sudden/shooting/burning pain the subsides quickly along the side of the joint at the base of my big toe. As this is my first experience with gout I have no idea how this thing will run its course.  Should I be concerned that I am still having symptoms? I am training for walking the Columbus Half and would hate for this to keep me from reaching that goal. Check out Dr. Bright's answer here!
I read it somewhere (I think from a trainer), that runners should adjust their zones by 5-7 beats to account for increased HR in summer otherwise one risks under training. Is this true? Check out Dr. Devor's answer here!
I am mandated to take the Flu Vaccine. My department is offering it a few days before the Columbus Marathon. I haven't had any significant reactions to the vaccine in the past, but I am cautious and concerned about taking it so close to the marathon. Is there any evidence to support me waiting until after the race or taking it a few weeks sooner? Check out Dr. Bright's answer here!