Whole Foods Market - February 2014
New Year's has long passed us by and some of our New Year's goals may have rolled off with the snow-rollers.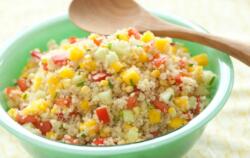 Lucky for us, no matter what time of year we're at, it is always a good time to set some healthy goals.   It is easy to start feeling sluggish in the late winter months, making it the best time to set forth on a rewarding healthy eating journey.  This February we are
Sharing the Road to Health
 to help you get energized and comfortable with creating healthful dishes that suit your taste.  This class series is designed to help you make healthful changes in your life that will last.  Each week we'll talk about different aspects of meal preparation and shopping, and give you some ideas for setting goals to live by.  Beginning new habits in your life can be difficult alone, so we encourage you to sign up with family (yes kids are welcome!) and friends, and then jump on this road together.  Cooking and preparing food is a social experience that should always taste delicious and be fun!  
Here is a Mango-Quinoa salad with simple preparation to get you started. Mangos are coming into peak season, and are great paired with sweet and savory dishes. 
Enjoy!  We look forward to seeing you here at the store.
Warm Regards,
Lauren Van Meter
Healthy Eating Specialist
Whole Foods Market Dublin