Twirl that Fork - Contributed by Whole Foods Market 
When considering our ultimate comfort food choices, some form of pasta is probably high on many of our lists.  In its many shapes and forms the bite and heartiness of those noodles makes us smile. 
Pasta can wear many faces in relationship to our health all depending on how it is dressed up.  If you are a frequent lover of eating pasta it is important to consider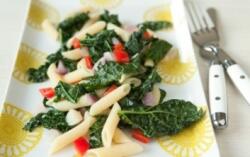 how you prepare it.  First, be sure to choose whole grain pastas (you must see the word "WHOLE" in the ingredient label).   There are many delicious options of whole wheat, brown rice, and quinoa that you can choose from and are all easy to prepare.  Be sure to add bunches (literally) of vegetables to your pasta.  This will help you control the portion size of the pasta you are eating, and bulk up the nutrient level.  This recipe of Pasta with Greens is a great start, and you can feel free to add your favorite veggies to enhance it further.  
Most of us also do not feel our pasta is complete without a topping.  If you cannot stay away from the cheese, shave a strong flavored cheese like parmigiano reggiano on top to control the portion of cheese, while also giving you big flavor.  You can also try adding a few chopped olives, pine nuts, walnuts, or capers to take the place of your cheesy topping. 
If you are feeling inspired and adventurous about pasta, join us for a Pasta Workshop on Monday, March 10 at 6:30 pm.  You will get to make your own homemade pasta creations to take home and share with your family.  
Monday Night Gourmet:  Pasta Work Shop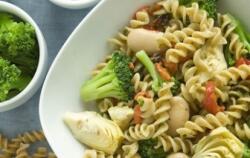 Monday, March 10 at 6:30 pm, $15
Register by calling 614-760-5556
 Whole Wheat Pasta with Pesto and Artichokes Recipe
Parmigiano Reggiano Cracking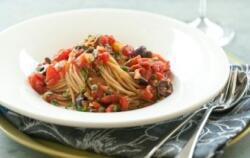 Saturday, March 8 from 12-2 PM, Free
Taste recipes prepared with accents of Parmigiano Reggiano