Mangos are one of the most popular fruits in the world, and it's easy to see why- the creamy orange colored flesh offers a refreshing snack and a beautiful accompaniment to a sweet or savory dish.   If you choose a ripe mango to eat, you will be welcomed by a creamy, lusciously sweet fruit with an ever so slight tang in the corners of your mouth.  
Not only do mangos taste fantastic, but they are frequently referred to as a super-fruit providing us with an excellent source of fiber, Vitamin A, Vitamin C, and many other nutrients.
For many of us, the hold up on mangos may be -how do I cut it and actually eat it.  Here are a few tips to help out.  Once you learn which method works best for you, this is quick and easy fruit to eat.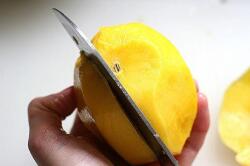 1.  Peel the mango using a sharp knife or a vegetable peeler.
2. Hold the mango at the stem end. The pit is an oblong shape, so imagine the shape of the pit as you slice around it. Begin by cutting off the large "cheeks" on either side.
3. Cut off the smaller pieces on the other sides.
If your mango can make it past the cutting board and your mouth, here are a few great recipes enlivened by the addition mango.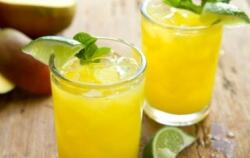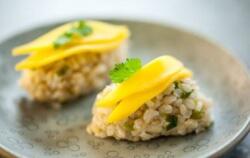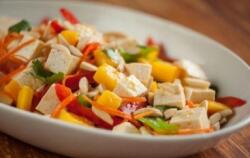 Come into Whole Foods Market this Friday to get Ataulfo Mangos on sale for $0.69 each or $9 a case!