Short and Sweet…The Season for Cherries
Every year we anxiously await the arrival of cherries.  If we are lucky, some of us may get to watch a cherry tree bloom. It has gorgeous fluffy pink and white buds that slowly transform into sweet red drops dangling from the branches.  The sad news is that we have a very short window of time to enjoy this little summer luxury. 
The Good news- That time is now!
It's time to take advantage of this amazing fruit at every meal while they are here and affordable.
Overnight Cherry Oatmeal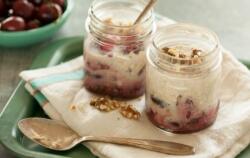 Nutrition:  A good source of fiber, and Vitamin C.
Low-sodium, low-fat snack.
Cherry Arugula Salad with Almonds and Tarragon
Keep an eye out for more information coming on our upcoming Healthy Eating Seminars and Cooking Demonstrations with Dr. Steven Devor.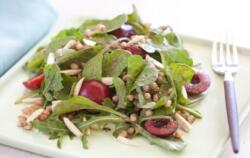 July 8 at 6 pm                    Healthy Eating For an Active Lifestyle at Whole Foods Market Dublin
July 22 at 6 pm                  Healthy Eating for an Active Lifestyle at Whole Foods Market Lane Avenue
August 12 at 6 pm            Healthy Eating for the Endurance Athlete at Whole Foods Market Dublin
I hope your week and bowl is half full (of cherries!)
Lauren Van Meter, Healthy Eating Specialist