An Early Spring Feast 
Even though there is a small chance for snow this week, let's face it- We are all SO ready to dig in the dirt.  Despite any unruly or unpredictable weather outcomes,

we can always start some little gardens inside to warm our hearts and our plates.  One of my favorite things to do in the spring is start a little lettuce patch inside.  I usually use one of my clementine crates lined with burlap and filled with that first bag of veggie potting soil for the season.   Then plant a few of your favorite lettuce seeds, place by a warm window, keep it moist, and watch the tiny lettuce leaves pop up in no time.  On the few days we have warm sunny weather, I'll place my lettuce patch happily on the patio for a few hours and let the chlorophyll soak in.  Soon enough you will have scrumptiously soft baby lettuce leaves to enjoy.
My family has a tradition started by my Great-Grandmother.  Every spring we eat our first lettuce patch dinner with pancakes.   There is no good reason why this became a tradition in our family, but it has become a fun spring ritual that we greatly look forward to.  My Great-Grandmother would most likely make a traditional buttermilk pancake with a side of soft greens.   Then the whole plate would be drizzled with a dressing of Molasses, Vinegar, and a touch of Maple Syrup.
I like to play with the recipes I serve at our Pancake and Lettuce dinner.  Usually I include a pancake filled with other garden delights like carrots, apples, pineapple, or zucchini.  This year I am making a hearty multi-grain pancake recipe and our lettuce will be accompanied by fresh strawberries.  I always keep our dressing the same traditional Molasses Vinaigrette in memory of my Great-Grandmother.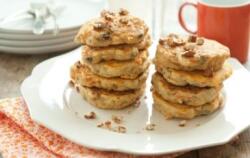 This dinner is a bit out of the ordinary, but it is simple, nutritious, and a fun feast that your family and friends will surely enjoy.  I hope you'll join me celebrating a feast of pancakes and lettuce this spring.
Muesli Applesauce Pancakes
1 Tablespoons Ground Flax Seed
2 Tablespoons Warm Water
1 Cup 365 Unsweetened Applesauce
½ Cup 365 Unsweetened Soy Milk (or Non-dairy Milk)
2 Tablespoons Honey
½ Cup Bob's Red Mill Country Muesli
¾ Cup Whole Wheat Pastry Flour
1 Teaspoons Baking Powder
½ Teaspoon Baking Soda
½ Teaspoon Ground Cinnamon
Combine flax seed, warm water, applesauce, soy milk, honey, and muesli in a large bowl.  Let sit for 5-10 minutes until slightly thickened. 
Combine Dry ingredients and stir into wet ingredients until just moistened.
Heat non-stick skillet to medium-low heat.  If desired brush lightly with canola or coconut oil.
Pour about ¼  cup of batter onto skillet and allow to heat until little bubbles form on the top.  Flip pancake- the bottom should be golden brown.
Remove pancake when both sides are golden brown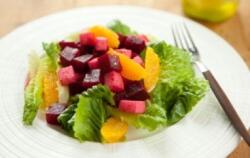 Beet and Orange Salad with Greens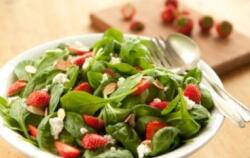 Strawberry Spinach Salad