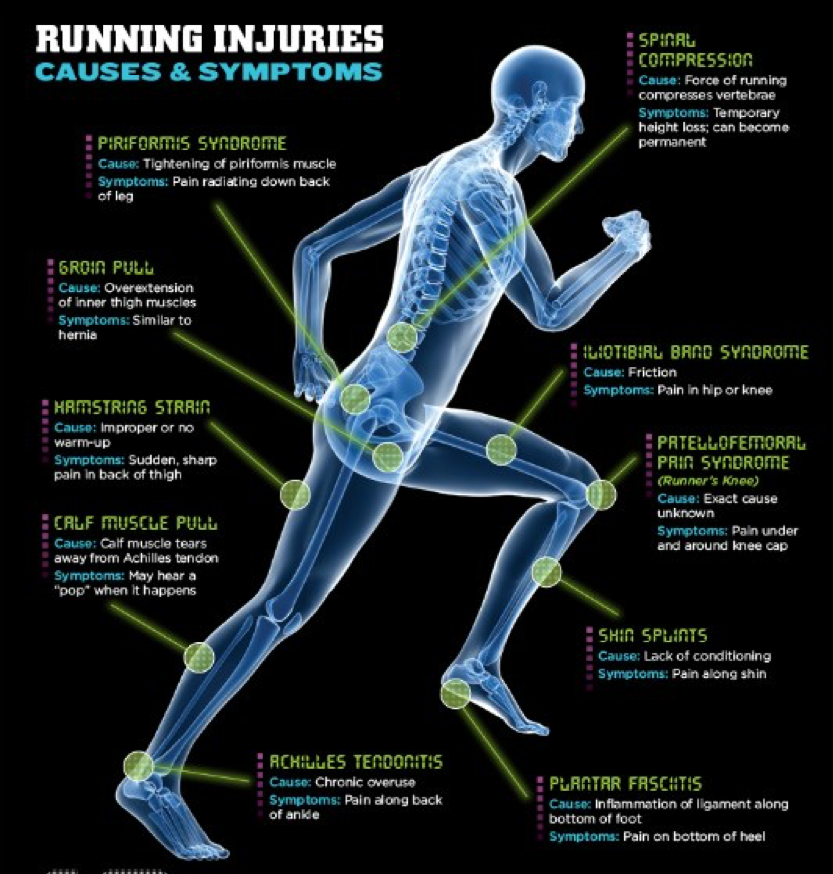 Late Season Aches & Pains
Sean Huffman MS, ATC, PT
Fit For Life Physical Therapy
Ouch! You woke up Sunday morning after your Saturday run and your left heel is killing you. You take a few steps and feel a lightning bolt flash through your heel. Or, you are out for your run and your knee progressively gets more and more sore. You start to walk and a sharp pain just below your kneecap virtually stops you in your tracks. With a late season running injury, you may be asking, "What do I do now?"
Unfortunately, at some point during most runners and walkers' lives, you will get some sort of ailment which will slow down – or stop – your training. The most important thing to realize is if you listen to your body, it will give you early warning signs that something is not right. In general, it is important to stop running and rest your body if:
Pain affects your natural running form, causing you to limp
Discomfort increases during your run
It is a sharp, localized pain
There is obvious swelling to the sore area
You have pain for longer than 7 days

Initial treatment to your injured area is RICE:
R – Rest, which means stop running! Take a couple days off and re-assess how you feel.
I – Ice your sore area. Ice is the most natural anti-inflammatory around and is easy to use on specific areas of the body. Ice massage is effective and easy. Take a paper or styrofoam cup and freeze water in it. Tear off the cup's lip and rub the ice over the injured area for 7 minutes. Repeat this two to three times daily.
C – Compression for the injured area. Wrap the area tight enough for support, but not so tight it will cut off blood flow. Compression socks work great for injuries in the lower leg, ankle, and foot.
E – Elevation of the injured area. Try to keep your injured area off the floor, and ideally higher than the level of your heart. This helps improve blood flow and assists to minimize swelling.
When an injury – late season or otherwise – occurs, and the above self-treatment does not provide complete relief, it is important that you get medical advice from a trained medical professional.
Fortunately, our MIT healthcare resources include physicians, physical therapists, athletic trainers, and other medical professionals. If needed, we can help guide you regarding your medical options and even streamline the process for you to see a physician.
Alternatively, the MIT in-house physical therapy partner, Fit For Life Physical Therapy offers Free Runner & Walker Injury Screenings at both our Lane Avenue (FrontRunner) and Polaris (Fleet Feet) locations. Monday through Saturday, our clinicians, who are runners treating runners, are available to provide quick 10-minute injury screenings to review your symptoms, answer your questions, and assist you with advice for your next steps on the road to recovery - in other words, peace of mind.
Following the rules above should help you to get back on the road, track, trail, or treadmill sooner rather than later if you suffer a late season injury. Good luck and happy training!
Fit For Life Physical Therapy cares for people of all activity levels - to help prevent, recover from, or rehabilitate sports & orthopedic injuries. We are proud to move people every day.
Please visit our website https://www.fitforlifephysicaltherapy.com/, email us at info@fitforlifephysicaltherapy.com, or call or text us at any of the phone numbers for our three convenient locations inside Fleet Feet/FrontRunner stores:
Polaris: 1270 East Powell Road Lewis Center, Ohio 43035 ~ 614-981-2065
Upper Arlington: 1344 West Lane Avenue, Columbus, Ohio 43221 ~ 614-981-1979
New Albany: 5792 North Hamilton Road, Columbus, Ohio 43230 ~ 614-581-7441
Late Season Aches & Pains