This is the time of year when produce in Ohio starts to flourish; we tend to get an abundance of veggies that is hard to keep up with in our kitchen.  Cucumbers are one of these veggies that suddenly blossom and we are blessed with baskets full and overflowing.  The good news is that cucumbers are a great crunchy snack, which are low in fat and calories, and will provide you with some of your daily needed potassium. 
For salsas, try an English Cucumber.  It has tender skin, and very few seeds.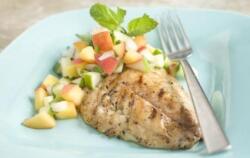 To enjoy with dips, use a Burpless cucumber or Standard slicing cucumber.  These tend to have a slightly thicker skin, and more seeds, but are very refreshing as a snack.
Eggplant Garbanzo Bean Dip with Cucumbers
To save the summer season, use Pickling or Kirby Cucumbers to make all sorts of delicious crunchy pickles.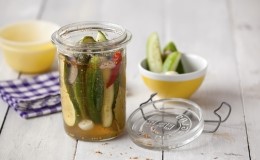 It's not too late to sign up for this week's seminar and cooking demonstration.
At Whole Foods Market Upper Arlington:  Dr. Steven T. Devor and Erin Ford present Healthy Eating for an Active Lifestyle.Tuesday, July 22 at 6 pm.
Have a bountiful week of happiness and health!
Lauren Van Meter, Healthy Eating Specialist
Got the Crunchy Munchies? ... Try a Cucumber! More Info »