Farmed catfish. Farmed salmon. Farmed shrimp. You see it everywhere. So what's the difference between our farm-raised seafood and what's available anywhere else? It's farmed responsibly!
We know exactly where our farmed seafood comes from. We know where it swam and we know what it was fed...and more importantly, what it wasn't fed.  We also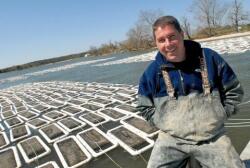 know that we can trust our farmer partners because, like us, they're committed to the healthiest, most environmentally friendly farmed seafood. Together with scientists and environmentalists, they helped us to develop our strict Quality Standards for Aquaculture. And with the traceability required by those standards, we can track our farmed seafood—where it came from and how it got to our stores.
What's so Great about Aquaculture?
It makes sense! Farming seafood can provide a consistent, high-quality, year-round supply of healthy and delicious protein. And when it's done right, aquaculture can be environmentally friendly and can be a crucial way to supplement wild-caught fish supplies.
On the other hand, poor farming practices, including those that cause water pollution and other negative impacts on the environment—as well as the overuse of chemicals and antibiotics—are bad news. That's where Whole Foods Market comes in. With our strict Quality Standards and third-party verification process, we ensure that we only source farmed seafood from the world's leaders in environmentally responsible aquaculture.
For further information and details on our farm raised seafood standards check out this link.
Once you have made your decision to purchase either farm raised or wild caught fish here are a few other tips to look for to ensure you seafood is fresh.
Look for bright, clear eyes to determine a really fresh fish.
Gills should be a rich, red color
Fresh whole fish should look shiny, metallic and clean - if it is dull or discolored, pass.
Smell it is it fresh and clean with no strong odor?
At Whole Foods Market we do our best to make sure all of our fish meet these standards, so you can enjoy your dinner and feel good about where it came from.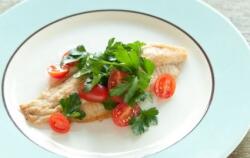 Catfish with Parsley and Tomato Salad