Jeff Henderson - Head Coach - USA Track & Field Certified Coach - Jeff authors the general training plans and provides direction to the coaches.  Jeff also works within the community and within the framework of footwear and apparel suppliers to market and promote MIT. Jeff is very passionate about bolstering the running and walking community in Central Ohio. He began coaching Cross Country and Track at Thomas Worthington High School in 2004, and began working with MIT in 2009. He enjoys the pure satisfaction that comes with completing a hard workout or race and loves helping others work towards their very diverse goals.
Dr. Darrin Bright - Medical Director -Board-certified family medicine and sports medicine physician; Director of the MAX Sports Medicine Endurance Academy - Dr. Bright is the Medical Director of the Columbus Marathon and the Capital City & Emerald City Half Marathons.  Beyond those responsibilities he serves in an advisory capacity to several prominent races and publications throughout out the U.S.  There is quite literally no one in the country more qualified than Dr. Bright to address injury prevention and treatment for our runners and walkers.
Undergraduate Education: BS in Natural Sciences, University of Akron, Akron, OH (1993)
Medical School: Northeastern Ohio Universities College of Medicine (1997)
Residency: Family Medicine, Riverside Methodist Hospital, Columbus, OH (2000)
Fellowship: Sports Medicine, Ohio State University (2001)
Tim Flahaven - Co-Director of Operations/Wise Sage - Owner of Fleet Feet + FrontRunner
Sean Huffman - Director of Medical Resources - Owner of Fit For Life Physical Therapy, Masters of Science in Health Administration - Sean Huffman ATC, PT is the Director of Medical Resources for Fleet Feet+FrontRunner, and Marathoners in Training.  Since 2010, Sean has been a 9:00 minute coach with MIT and he founded Fit For Life Physical Therapy as the in-house physical therapy centers for Fleet Feet+FrontRunner.  With 30 years of experience in sports medicine, orthopedics, and physical therapy, Sean is dedicated to "moving people."
Amy Harrsion - OhioHealth Athletic Trainer - Athletic trainer. Ohiohealth Runners Clinic. CPR instructor. specialties: running gait analysis, FMS, exercise, and performance enhancement.
2018 Winter/Spring MIT Coaches
Group Leads - Our group leads have the highest level of experience and expertise. They work directly with Jeff Henderson and Dr. Bright to ensure your coaching is consistent and thorough. Please reach out to you Group leads with any questions you encounter through your training, and they will be happy to get back with you in a timely manner!
7:30-10:00 Group Lead
10:15-11:30 Group Lead
12:00-Walk Group Lead
 
 
 

Dave Calvert

dave@fleetfeetcolumbus.com

8x Boston Qualifier

22 Marathons - 2:53:46 PR

17 Halfs - 1:22:18 PR

Jenn Scrimenti

jenn@fleetfeetcolumbus.com

 

7 Marathons - 3:34 PR

15 Halfs - 1:39 PR

Jami Wolverton

jami@fleetfeetcolumbus.com

 

2 Marathons - 3:35 PR

7 Halfs - 1:42 PR 

Your Pace Coaches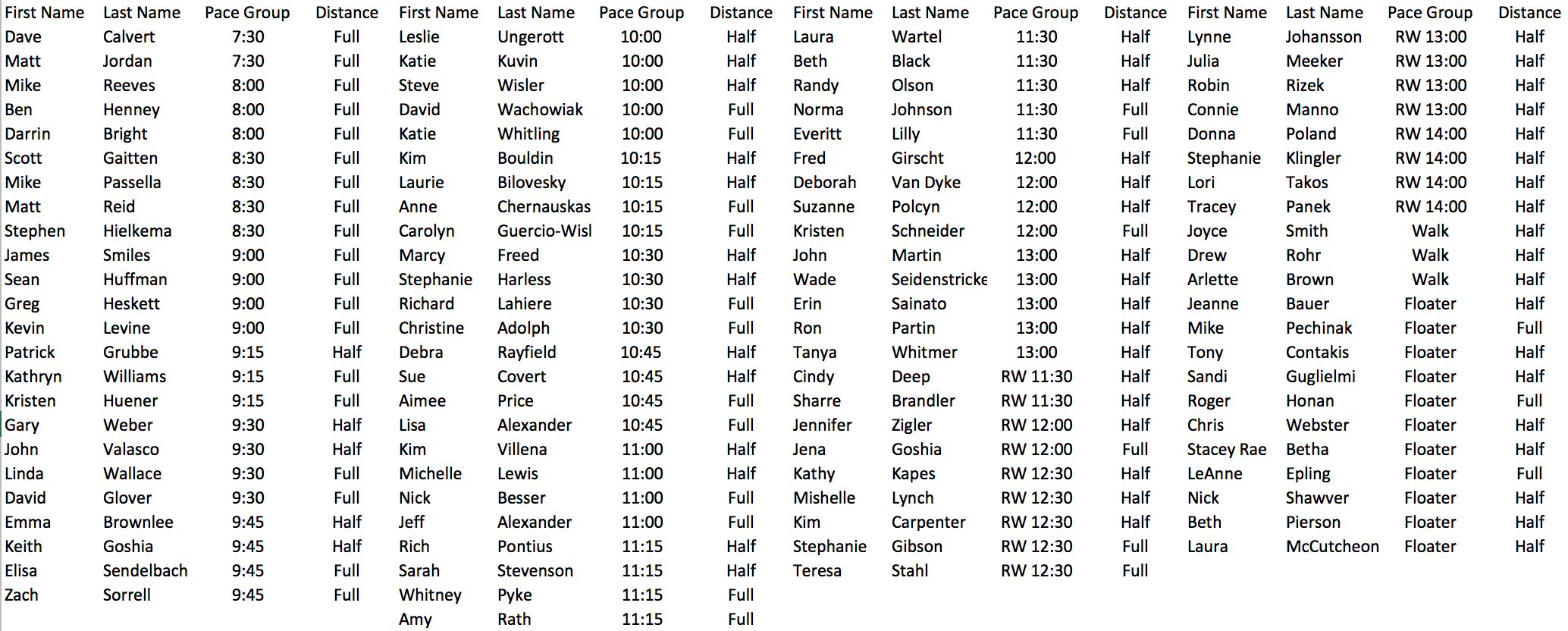 Marie Miller - MIT Strength Coach - Marie Miller is the Owner and Head Personal Trainer of 614Fitness, and hold a Bachelors of Science in Sports Management. Her passion for fitness is evident in her desire to stay current on the latest trends and education available. She brings an unparalleled energy to fitness that motivates and inspires everyone.
Marcy Freed - MIT Yoga Instructor - Join Marcy Kuehl Freed, MA and RYT200 at FrontRunner for a yoga class specifically designed for runners. Designed for Runners, this mixed-level yoga class will focus on alignment for biomechanical integrity, stretching and lengthening "runners" muscles, core strength and breath control.