Our Apparel & Accessories
---


Apparel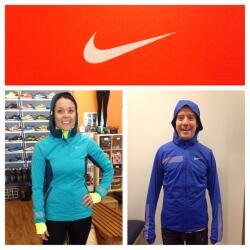 Technical apparel, made from synthetic and natural fabrics, offers performance features and benefits your old cotton tees and sweats can't match. Worn next to your skin, whether it's a top, sports bra, shorts, or underwear, any technical running garment is designed to wick, or pull, moisture away from your body, helping you stay drier and more comfortable on the run. Technical apparel dries fast, is less bulky than cotton, and includes features - such as flat seams, vents and pockets - than can make a tremendous difference in how you feel while exercising so you can maximize your workout.
---
Sports Bras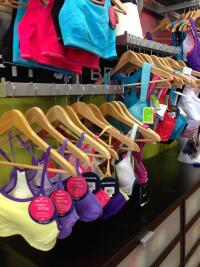 Next to your footwear, a high quality, supportive sports bra is necessary athletic equipment for women. Sports bras come in awider variety of shapes and sizes than ever before, but finding one that both fits and functions can be a challenge. Industry experts claim that 80% of women wear the wrong size and we all wear them far longer than we should.
Runners and walkers are best supported by bras designed for high-impact activities and made with moisture-wicking technical fabrics. Staying dry helps minimize chafing, as do flat seams, off-center stitching, and other non-binding features. It's always important to try on several styles and sizes when choosing a sports bra - one brand's 34C will not fit exactly like another's.
Our FIT professionals can help you find the right bra from among our varied selection.
---
Electronics
If you're looking to get the most out of every run, a training watch is a necessity. Like a handy digital coach, the right watch can track your pace, distance, heart rate and location, and help you make sense of all the data. With the more advanced styles, you can upload workouts to your PC and get a complete picture of how you're doing. Some are linked to GPS receivers, foot-pod sensors, and chest straps, these little wonders take the guesswork out of calculating mile splits and heart-rate zones, so you can just focus on your workout.
---
Essentials
Socks
Oftentimes, we are so careful about selecting the proper shoes and apparel, but forget the little things that make a big difference. Take socks, for instance. A great pair of socks goes a long way to keeping your feet dry, blister free, and happy. Synthetic socks, made by Balega and Swiftwick, provide a snug, seamless fit in styles to suit everyone's preferences. Select socks are even woven with pure merino wool, a sustainable, natural fiber that helps keep you warm in cold weather, and cool when the temperature rises.